Lewis Hamilton took an untroubled textbook victory - the Mercedes driver's 95th career win and the 11th of the 2020 championship - at the end of what had been an otherwise hugely dramatic Bahrain Grand Prix,
Red Bull's Max Verstappen was close behind in second, and his team mate Alex Albon picked up the final podium position after a late engine failure robbed Sergio Perez of a deserved third place.
However the race itself was overshadowed by a massive accident for Romain Grosjean which caused the initial start to be red flagged, after the Haas spun off and was ripped in two as it hit the barriers and burst into flames, with Grosjean miraculously able to jump clear.
There was also drama at the restart when Lance Stroll's car was flipped into the air and onto its side, but the driver was extricated without injury.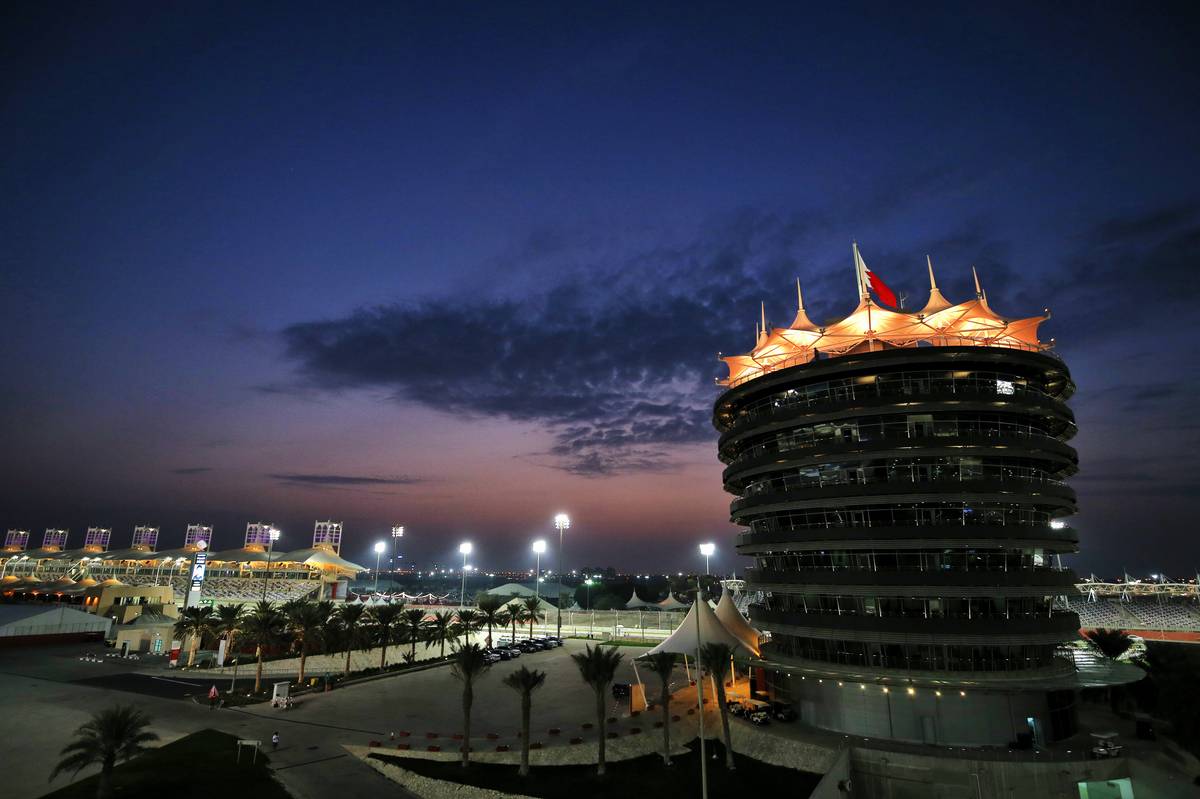 The sun had set and the lights were on as 20 cars made their way to the grid at Bahrain International Circuit. The constructor titles might already have been settled but there was still a race to win and a trophy to claim. The top ten were all on mediums while Ferrari had opted to split strategies between their drivers, Sebastian Vettel in 11th also on the the yellow-walled compound while Charles Leclerc next to him was starting on a set of the hard equivalent. Only one driver was on softs, with Carlos Sainz seeking some sort of strategic edge to recover from the brake issue in qualifying that had left him starting from 15th.
On pole position, Lewis Hamilton had the advantage of being on the racing line and got a great start, as did Max Verstappen and Sergio Perez who were right behind him. But on the other side of the grid there was a dreadful launch for Hamilton's Mercedes team mate Valtteri Bottas, who was further squeezed out by Alex Albon and Daniel Ricciardo going into turn 1 as he dropped like a stone to sixth place.
Huge accident for Grosjean triggers fireball and red flag
All of that was soon moot as things got increasingly messy toward the back of the field, with Lance Stroll going off after contact with Vettel and Lando Norris damaging his front wing in a clash with Esteban Ocon. But it got much worse, very quickly: Romain Grosjean moved right and clipped the front of Daniil Kvyat's AlphaTauri, which sent him into the barrier after the exit of turn 3. The violent impact literally ripped the Haas in half, spilling out fuel which instantly ignited into a huge fireball with Grosjean still in the cockpit, his life almost certainly having been saved in the initial impact by the Halo.
Somehow Grosjean managed to scramble free, and with the help of the team from the medical car arriving on the scene within seconds he was pulled clear, as other marshals rushed in wielding fire extinguishers to hold back the inferno that by now was raging around them. Unquestionably one of the worst accidents seen in recent Grands Prix, it was frankly miraculous that Grosjean was soon on his way to the medical centre and then to hospital for further evaluation with minor burns to his hands and ankles as well as suspected broken ribs.
Race control had thrown the red flag at the first sign of fire, and there was now a prolonged delay as track workers attended the mangled remains of the barriers - a pause that was much needed, as everyone in the paddock recovered from the shock of what had just transpired.
Restart sees Stroll flipped upside down
The race resumed 80 minutes later, with the starting order picking up from the last timing line before the original red flag had been shown, restoring Bottas to fourth place ahead of Albon and Ricciardo, followed by Norris who had got a 'free' front wing change during the stoppage. Ocon was in eighth followed by Pierre Gasly and Vettel in tenth ahead of Stroll, Leclerc and Sainz.
For the second time tonight, Hamilton got a clean start while Verstappen did a better job on the 'wrong' side of the grid than Bottas had done earlier and successfully fended off Perez into turn 1. But there was more drama further back, as Stroll attempted to squeeze Kvyat at turn 8 only for their wheels to connect, flipping the Racing Point onto its side and into the air where it landed the wrong way up, necessitating a safety car while the busy medical team extricated the Canadian. "I'm okay, just hanging upside down," he nonchalantly informed the team.
Bottas had initially held on to fourth position only to then suffer a puncture from debris forcing him to pit, dropping him to the back. Kevin Magnussen was also in after damaging his front wing on the back of Vettel's Ferrari as the field slowed in reaction to Stroll's accident ahead.
Lap 9 proved to be the first of the evening actually to be completed at race speed, with Hamilton already a second ahead of Verstappen and Perez. Further back, Ocon fought off a move by Leclerc to hold on to sixth place while the soft-shod Sainz got the better of Ricciardo to move up to eighth. Moments later Sainz then dispatched his future team mate Leclerc down into turn 1; Leclerc attempted to counterattack only to open the door to a move from Ricciardo. A lap later and it was Gasly's turn to humble the Ferrari, while things were no better for Vettel who had dropped all the way to the back after declaring his car "undriveable" following multiple contacts earlier in the race.
First pit stops confirm two-stop strategy for all
Ricciardo was the first driver to make a scheduled pit stop on lap 17, and Ocon and Kvyat followed suit next time by with the Russian having to serve a ten second penalty for his part in Stroll's inverted retirement. Lap 20 saw Hamilton pit from the lead for a second set of mediums, meaning that at least one more stop was still on the cards. Verstappen briefly took control of the race but both he and Perez were in next time by, restoring the order at the front. Remarkably Sainz waited until lap 22 to pit despite having started on the widely disparaged soft tyre.
Hamilton's lead was now almost five seconds over Verstappen with Perez in third ahead of Gasly who had switched to hard tyres during the red flag stoppage, enabling him to get ahead of Albon once the Red Bull driver made his own pit stop. Bottas had battled his way up to sixth ahead of Norris, Ocon and Ricciardo while Sainz had rejoined the race in tenth place on his new set of mediums which allowed him to swiftly dispatch both Ricciardo and Ocon.
However all was not well with the Mercedes, and a combination of DRS and much fresher tyres enabled Norris to pass Bottas on lap 25 after which the Finn made his second pit stop of the night, dropping him back to 14th. Nor were things going well for Ferrari, Leclerc dropping back to 12th after pitting for hard tyres and Vettel marooned in 17th where he was struggling to fend off Williams' Nicholas Latifi in their unwanted squabble over the wooden spoon.
Hamilton keeps control to win ahead of Verstappen and Albon
By the midway point of the race, Hamilton's lead over Verstappen had stabilised at five seconds, with Perez long since having fallen away and increasingly at risk from Albon. After that it was a pair of McLarens (Norris and Sainz) and Renaults (Ricciardo and Ocon) followed by Gasly, leaving Leclerc and Bottas fighting for the final points position. The matter was ultimately decided in Bottas' favour with a smooth pass down the inside of turn 1 on lap 33.
Kvyat was in for his final stop on lap 34 with Verstappen in next time around - albeit suffering an unusually slow service from the Red Bull pit crew, with Albon getting a much better time of it when he came in moments later. Mercedes responded by summoning in the race leader for a final set of hard tyres on lap 36 with Perez also in on the next lap allowing Hamilton to maintain the lead, although flying laps from Verstappen saw the gap at the front cut to three and a half seconds.
After the final round of stops had cycled through, Hamilton was reasserting his lead over Verstappen and Perez with Albon up to fourth ahead of Gasly. He was followed by Norris, Sainz, Ricciardo and Ocon, with Bottas back up in the final points position. Much fresher tyres gave Norris and Sainz an irresistible advantage over the one-stopping Gasly, while Verstappen prioritised grabbing the bonus point for fastest lap of the race by making an extra pit stop on lap 47 for fresh tyres.
There was one final fiery twist to come when Perez' race ended after his car started belching smoke and flames from the rear. A safety car was deployed as the Racing Point crawled to a stop by the side of the track, handing what had been a certain podium to Albon. It also meant that Gasly was able to hold on to sixth ahead of Ricciardo, Bottas having passed Ocon for eighth. Leclerc took the final point from Kvyat with Russell in 12th followed by Sebastian Vettel, Nicholas Latifi and Alfa Romeo pair Kimi Raikkonen and Antonio Giovinazzi. Last man on track at the line was Kevin Magnussen.
Gallery: The beautiful wives and girlfriends of F1 drivers
Keep up to date with all the F1 news via Facebook and Twitter