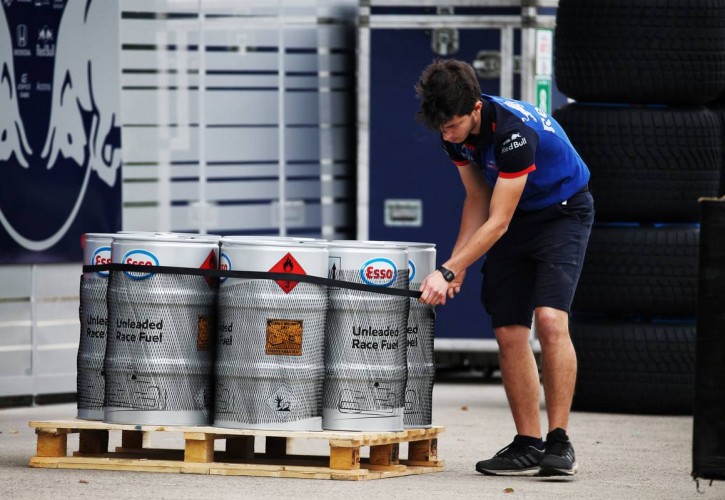 Red Bull's Christian Horner believes Formula 1 should delay the introduction of the biofuel planned for 2022 as such a development would prove inconsistent with the sport's prospective engine freeze.
Unbeknownst to many, Formula 1's fuel specifications currently include a mandatory 5.75% of biofuel elements. But that portion is set to increase to 10% from 2022, with a 100% sustainable fuel being used when F1's ushers in its next engine cycle, scheduled for 2026 at the latest.
Red Bull is pushing for a freeze on engine development from 2022 as it seeks to take over Honda's power unit program at a feasible cost.
Horner suggests the introduction of the E10 biofuel in 2022 will offer little in terms of "messaging" for F1 while representing an additional development cost for manufacturers.
"My preference would be probably not to do the E10 fuel," Horner said, quoted by Motorsport.com.
"It's a development direct requirement for 2022, and [we'd prefer to] just bring in a completely sustainable core fuel with a new engine [instead of] going another five per cent on the E10 for the current fuel.
"I'm not sure it's a huge message, whereas 2026 - which may become 2025 - is, if it's a fully-sustainable fuel.
"There will be consequences to introducing that fuel and that consequence obviously is inevitably costly."
Mercedes F1 boss Toto Wolff - who is also in favour of a development freeze from 2022 if no engine performance convergence system is imposed on manufacturers - agrees that upgrading F1's fuel to the E10 specification is "just a small step", and that Mercedes was "actually pretty neutral whether we do E10 or whether we don't".
Last month, the FIA announced that it had shipped the first barrels of its 100% sustainable fuel to F1's engine manufacturers to undergo testing and validation.
While the fuel likely won't be introduced until 2026 at the latest, it could be ready as early as 2023 according to FIA technical director Gilles Simon.
"We have not yet completed a full plan, but what I can say is that our target we are working towards, sustainable fuels, 100% sustainable fuels, in '23," in the FIA's in-house publication AUTO.
"We are progressing, but I cannot say today it will be then. It's a little too soon to say we will be using 100% sustainable fuel in '23. But this is what we will try and achieve."
Gallery: The beautiful wives and girlfriends of F1 drivers
Keep up to date with all the F1 news via Facebook and Twitter