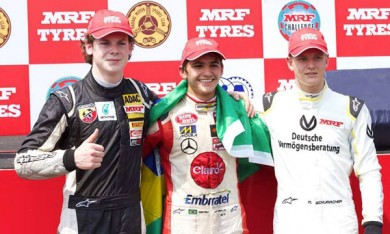 Mick Schumacher, the 16-year-old son of seven-time world champion Michael Schumacher, came home third in the first race of the MRF Challenge event held at Chennai this weekend.
There were actually three familiar Formula 1 names on the podium as the heat was won by 19-year-old Pietro Fittipaldi, grandson of Emerson Fittipaldi, while second place went to Harrison Newey, the son of renowned Red Bull designer Adrian Newey.
The MRF championship is a Renault-powered open-wheel formula based in India. The Chennai event is the fourth and final round of the series which included races in Abu Dhabi, Bahrain and Dubai.
Mick Schumacher took part only in the Indian leg of the challenge. The young German had a rather laborious start to his race, losing two spots after being pushed onto the grass but later charged back to claim the final spot on the podium.
"I am pretty happy, for sure," Schumacher said after the race.
"I had to pass a few people first, and also managed to get closer to Tatiana Calderon who was quick, so I'm pretty happy to be third now. India treated me well, I like this circuit."
With three races to go this weekend, championship leader Fittipaldi extended his lead at the top of the series from Tatiana Calderon from Colombia and Nikita Troitcki from Russia.
Scene at the Pirelli wet tyre test