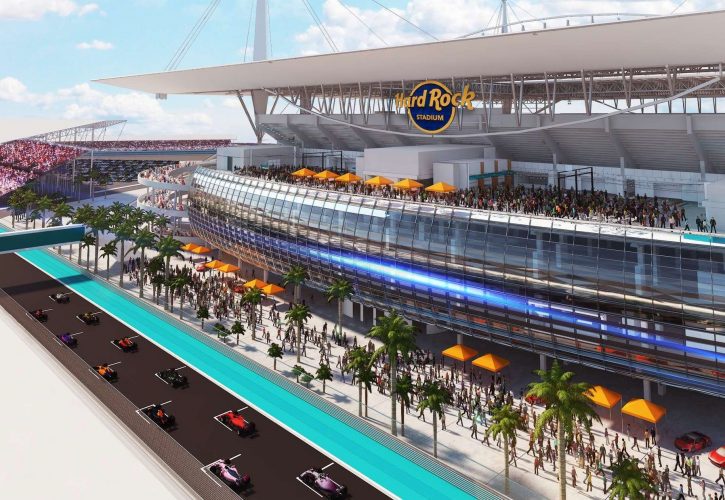 F1's prospective plans of bringing Grand Prix racing to the streets of Miami in the future received a major boost on Thursday thanks to Miami Gardens Mayor Rodney Harris who previously opposed the project.
Liberty Media endeavor in South Florida and its attempts to add a second American race on F1's calendar has encountered several roadblocks over the past two years.
A planned circuit layout designed around Biscayne Boulevard was scrapped in 2019 following a staunch opposition from local residents, while relocating the race around the Miami Dolphins Hard Rock Stadium of the event's promoter Stephen Ross also hit the skids.
Again, local residents and political representatives opposed Ross and F1's race plans arguing that the event would disrupt life of residents of Miami Gardens.
However, despite a lawsuit initiated last year by a group of residents against Miami-Dade County, a dialogue remained opened between all involved parties, with various accommodations and also a change of layout tabled by Liberty Media.
On Thursday, Miami Gardens Mayor Rodney Harris offered a joint resolution with Hard Rock Stadium designed to appease local activists.
The proposal includes a $5 million economic package for residents, businesses and restaurants as well as internship programs for local residents.
The plan also calls for the erection of noise mitigation barriers at specific areas of the track as well as air quality and noise monitoring during the race weekend.
The city council is set to vote on the resolution next Wednesday, and the outcome could permanently make or break F1 and Stephen Ross' struggling enterprise in Miami.
Gallery: The beautiful wives and girlfriends of F1 drivers
Keep up to date with all the F1 news via Facebook and Twitter