They say a camel can go up to seven months in the desert without drinking. Well, Nicholas Latifi and Kimi Raikkonen raced for 78 laps in the Monaco GP without sipping a drop from their water bottle!
Both drivers were deprived of liquid during last Sunday's event, although for different reasons.
Latifi started his race P18 and concluded his afternoon 15th, just behind Williams teammate George Russell. But the Canadian only realized after he had crossed the checkered flag that he had forgotten to push his drinks tube inside his helmet.
"I'm relatively pleased with the race, I think I maximised what I could," he said. "I got ahead of Yuki [Tsunoda] at the start, which was great.
"I was pushing George [Russell] along quite well and I managed to go quite a bit further than him, managed the tyres quite good.
"I think the only mistake I made was before the race even started, I forgot to put the drinks tube in my mouth!
"I didn't realise until afterwards so it was fine, but I was like 'Yeah I'm a bit thirsty now!' So I just downed [a drink] after I got out of the car, but it was fairly straightforward I guess."
Latifi said that racing for over 90 minutes in Monaco's different environment without any liquid was "ideal", but an F1 driver's level of fitness can easily cope with such a situation.
"We train for it," he said. "It's for sure not ideal, I was probably a bit dehydrated after that.
"You don't really get much of a rest around this track, even in the straights you're turning and probably the extra mental energy that goes into this one makes you work a bit hard.
"Take into account that it's also my first time here so it's maybe going to be a bit harder for me than it is for a guy like Lewis or Kimi that has done so many races around here. But yeah, I train for it.
"I was fine. Like I said I didn't even notice until I got out of the car and I'm like 'My mouth's a bit dry… Oh yeah my tube's not in my mouth!'"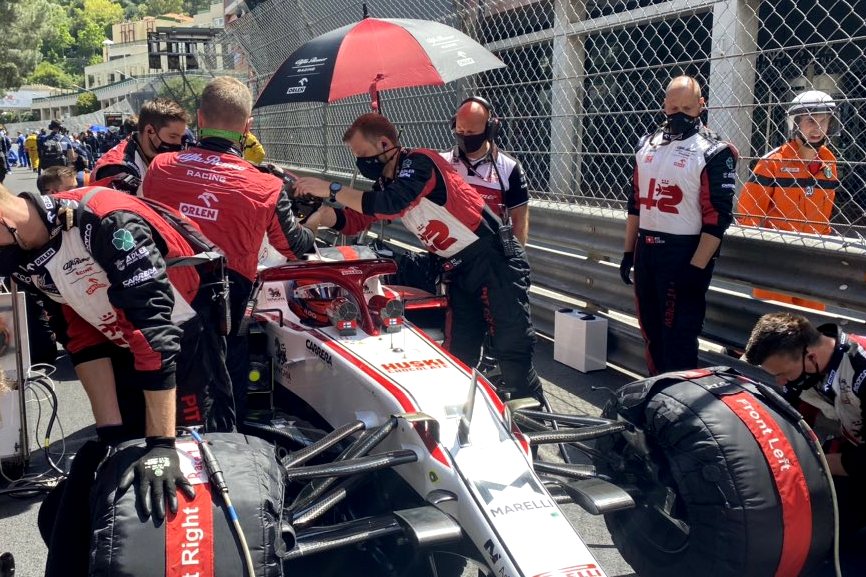 Kimi Raikkonen's water bottle predicament wasn't caused by the Finn's distraction but by a technical issue mishandled by the Alfa Romeo team.
Raikkonen, who finished his Monaco GP just outside the points, let his team know in clear terms that he wasn't happy with the problem, but otherwise the Iceman was as cool as an… ice cube at the end of his race.
"One thing, again that fucking drinks pipe came loose on the formation lap!" Raikkonen said on his cool down lap over the radio.
"It's been behind my back the whole race the fucking filter, so I don't know how it's so difficult to put it, connect it correctly."
Gallery: The beautiful wives and girlfriends of F1 drivers
Keep up to date with all the F1 news via Facebook and Twitter