Ferrari boss Mattia Binotto says an early ban on wind tunnel in F1 would only lead to an increase in track testing and to an expensive step up of costs.
In a bid to further reduce the sport's costs in the future, Formula 1 has tabled the idea of banning wind tunnels from 2030 and having team designers rely entirely on the numerical analysis benefits of CFD, or Computational Fluid Dynamics.
F1's proposition was received with a lot of interest by teams, with 8 of the sport's 10 outfits voting positively on a "statement of intent" submitted late last year at a meeting of the F1 Commission.
While a ban would be implemented from 2030, the decision would require a long multi-year lead time to allow teams to organize the suppression of part of their current infrastructure.
Although he is open to considering a ban on wind tunnels at some point in the future, Binotto insists the discussion is in its early inning, and the Scuderia boss rules out a ban in the medium term.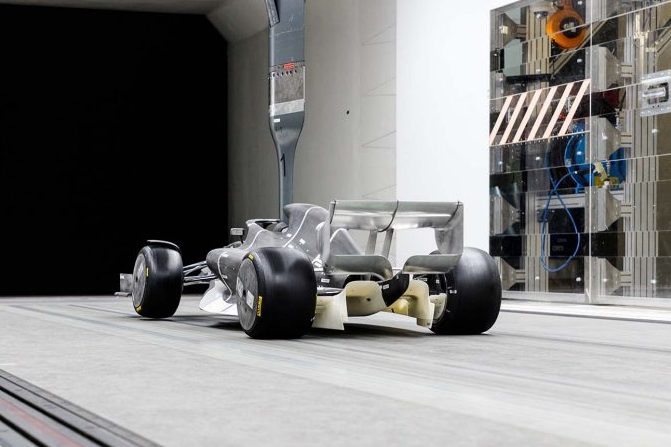 "I think that all the teams are open to the discussion," the Swiss engineer said recently in Monaco. "And open to accept it eventually, because it's a long time from now.
"Are we today ready to ban the wind tunnel? Not at all. I think in general it has always been about design simulations and testing, and testing is still very important, whatever it is – aerodynamics, power units, etcetera.
"I think that in terms of cost reductions, we are already reducing at the moment the hours in the wind tunnel, which is a step in the right direction."
Binotto argues that an introduction of a total ban in the short term would not yield a reduction in costs for teams.
"Banning it completely, if you would do it today, the testing would be on track, and that would be even more expensive, rather than doing it in the wind tunnel," he said.
"So I don't think the times are mature today for a decision."
Part of F1's argument in favour of outlawing wind tunnels relies on the ever-improving quality and sophistication of CFD simulation.
And Red Bull team boss Christian Horner believes the digital technology will only advance and get better with each passing year, a progress that should justify increased investment in CFD from teams.
"A wind tunnel isn't particularly efficient, it's not very environmentally friendly," explained Horner.
"The way that CFD is evolving so rapidly – for example, the Valkyrie never went in a wind tunnel once during its whole development phase – I think if you take a 10-year view on this, so it's far enough out that these effectively dinosaurs of machinery that are heavily consuming electricity and power become a thing of the past. F1 should be the cutting edge of technology.
"We're seeing more and more investment from the tech sector, so why not be the showcase for that tech, with F1?.
"I think if it is something like 10 years away, then there's a glide path towards it that every team knows it's coming, and you adjust your investment over the period of time accordingly."
Over at Team Silverstone, which is proceeding with its wind-tunnel plans, Aston Martin team boss Otmar Szafnauer insists CFD isn't yet a viable replacement for wind tunnel testing.
"As we sit here now, CFD cannot replace tunnels," commented Szafnauer. "Not for what we use CFD for. CFD is great if you have very simple aerofoils or aerodynamic problems to solve.
"But an F1 car has so many interactions and so many intricacies that you're trying to solve, and CFD is not capable at this point.
"There are aspects of CFD that you can apply that work, but to just go CFD, it's not as good as CFD with a tunnel."
Gallery: The beautiful wives and girlfriends of F1 drivers
Keep up to date with all the F1 news via Facebook and Twitter