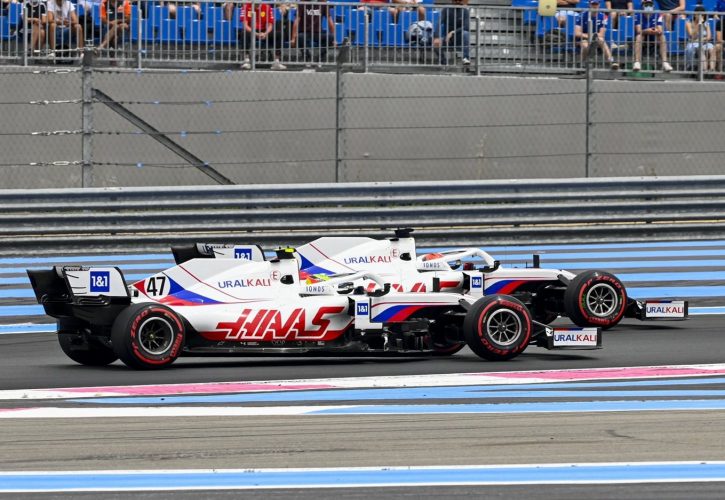 Two weeks after his near clash with Nikita Mazepin in Baku, Mick Schumacher was once again at odds with his Haas teammate following an aggressive maneuver by the Russian in the French Grand Prix.
Five laps into Sunday's race at Paul Ricard, Mazepin, who was running last, caught up with Schumacher and lunged to the inside of the German driver at Turn 3, forcing the latter off the track on the entry into Turn 4.
Schumacher eventually recovered to finish well ahead of Mazepin, but the Haas charger was clearly unimpressed once again with his teammate's antics.
"It doesn't have to be [like that]," Schumacher told Sky Germany after the race. "I think I have to talk to the team about it again. If that's how it's going to be in the end, then so be it.
"We do our thing, he does his. Most people can explain to themselves that it doesn't have to be like that. At this level, I can't quite understand it."
Schumacher received some predictable support from his uncle, Sky Germany pundit Ralf Schumacher, who believed that Mazepin had come in too fast into Turn 3 and was lucky not to have crashed into his teammate.
"The two of them won't go on vacation together," said the former F1 driver. "I have to say, the only excuse I have is that Nikita is absolutely overwhelmed.
"He drives in too fast and doesn't leave any space. Thank goodness nothing happened because Mick looked in the mirror, otherwise both would have been out.
"At some point the team boss has to say something, even if Dad [Dmitry Mazepine] pays the bills."
Gallery: The beautiful wives and girlfriends of F1 drivers
Keep up to date with all the F1 news via Facebook and Twitter