Pierre Gasly put up a strong defense against McLaren's Lando Norris in the French Grand Prix, but the AlphaTauri driver enjoyed the "hard racing" despite his rival's criticism.
Norris branded the Frenchman an "idiot" after the pair ran side-by-side around the high-speed Beausset corner, when the Briton attempted to pass the AlphaTauri on the outside of the corner.
Gasly held the inside line before running wide on the exit.
"It was hard racing, but I really enjoyed it," Gasly commented. "You can't expect to go around the outside and the guy not to fight.
"So I tried to keep it clean. It's really a difficult corner, very long, you're on the edge of the grip.
"You have also a tailwind, so it's difficult to keep the car on track. I haven't seen the footage, I'll look at it to see if it was too much or not.
"I slid on the kerb on the exit. I think I'm quite a fair racer, and the next lap I think we fought again. It's racing."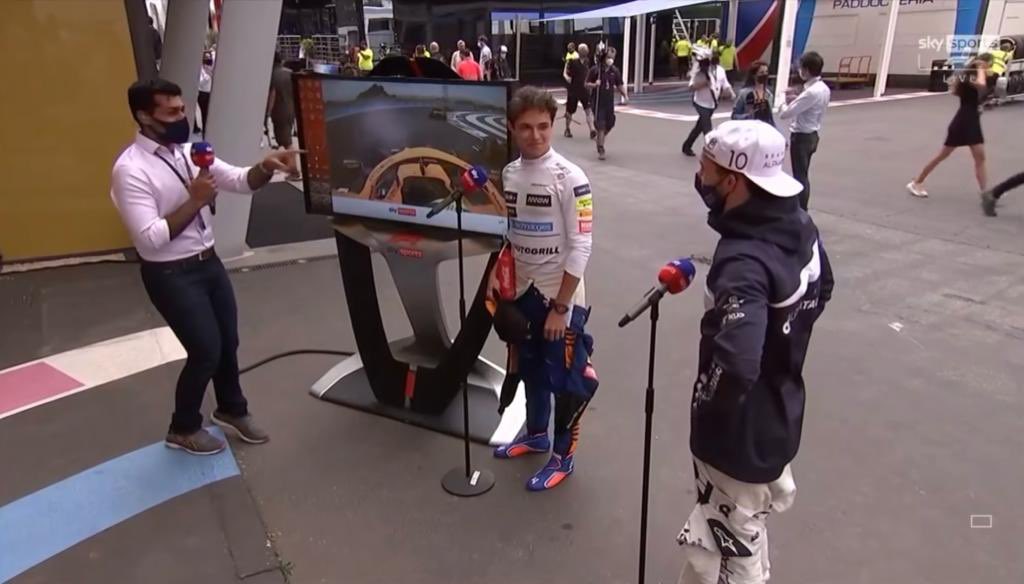 Norris eventually overhauled his midfield rival who was also overtaken a few laps later but the other McLaren of Daniel Ricciardo.
When all was said and done, Norris and Gasly met up with Sky F1's Karun Chandhok to analyse their squabble on the SkyPad.
Gasly was unaware that Norris had called him an "idiot", but he held no grudge against the McLaren driver.
"I'm the first to say that kind of thing as well, in the heat of the moment," said a good humored Gasly. "Probably if he would have done the same thing to me. I would have told him the same way, so…"
Although he lost out to both McLarens to conclude his afternoon P7, Gasly was delighted to score his sixth consecutive top ten finish.
"We are the fourth best car at the end, behind the two McLarens, the two Mercedes, and the two Red Bulls," he said. "So I think we can be only pleased with that.
"Obviously there are still a couple of things which I feel could maybe be done slightly differently, like around the pit stop we let Charles [Leclerc] and [Daniel] Ricciardo undercut us, and it cost us track position.
"I had to battle straight out of the box, and damaged the tyres quite early on the stint.
"So, there's still a few things we need to review, but all-in-all P7, fourth-placed car, we can't complain about that. A lot of good battles, so I think it was a strong race."
Gallery: The beautiful wives and girlfriends of F1 drivers
Keep up to date with all the F1 news via Facebook and Twitter