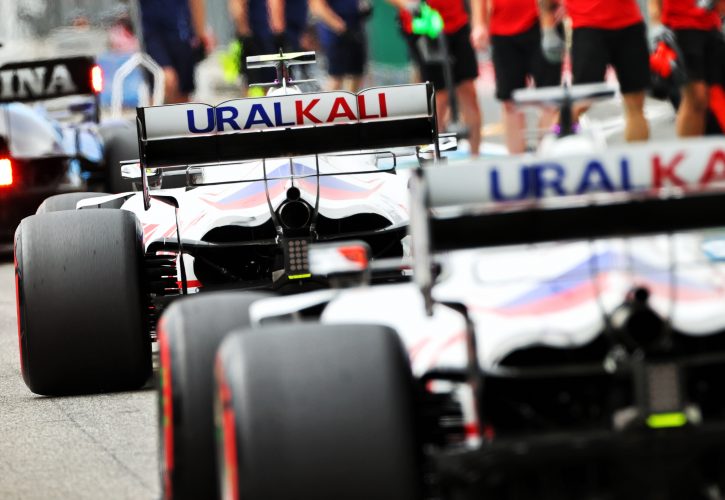 Haas team boss Guenther Steiner says the on-track spat between Mick Schumacher and Nikita Mazepin in the early stages of the French Grand Prix was just "hard racing".
After Schumacher's criticism of Mazepin's defensive driving on the final lap of the Azerbaijan Grand Prix that almost resulted in a costly collision, the young German took exception to another move by his teammate in last Sunday's race that he viewed as overly aggressive and unnecessary.
Mazepin, running last at the start of the French Grand prix, got a run on Schumacher at the start of the fourth lap and lunged up the inside of the German at Turn 3, forcing him off the track.
After the race, Steiner brought the two drivers together once again to understand the squabble.
"To be honest, when it happened, I didn't see it well," Steiner said. "I need an overhead camera!
"Mick tried to overtake George [Russell] I think and just had to slow down because it didn't happen, and Nikita took his chance and went inside.
"I spoke with both of them and I think in the circumstances it was racing, but it wasn't unfair by any means. In my opinion it was hard racing."
Schumacher eventually regained the position over his teammate, crossing the finish line well clear of Mazepin.
The 22-year-old is obviously getting frustrated with the Russian's antics and reckons that he may need "to get his elbows out in the future".
"I think most people can explain that to themselves, that maybe it doesn't have to be like that," he commented to German media after the race. "I think he [Mazepin] was quite open or talkative about it in the press. I think that's probably his style.
"Maybe we don't quite understand each other on that level. But at the end of the day, maybe we have to get our elbows out."
On the other side of the Haas garage, Mazepin played down the incident, insisting the wheel-to-wheel battle had been "just very normal".
"I think being at the back, opportunities don't arise very often," he said.
"An opportunity arose, and I was happy that I was alert enough and ready to take that opportunity and capitalise. But in the end, I was not able to hold on to it."
Gallery: The beautiful wives and girlfriends of F1 drivers
Keep up to date with all the F1 news via Facebook and Twitter