Red Bull's Max Verstappen left it late to clinch pole position in a dramatic rain-hit qualifying for the Belgian Grand Prix, with his Mercedes title rival Lewis Hamilton set to start tomorrow's race from third on the grid
But the biggest shock of the afternoon was Williams' George Russell who thrived in the treacherous conditions and managed to claim second place, the First front row start for Williams since Lance Stroll at Monza in 2017.
McLaren's Lando Norris had looked to be the man in form after going quickest in both Q1 and Q2, but he got caught out when the rain returned at the start of Q3 which caused him to aqua-plane off at Eau Rouge and suffer a huge impact with the barriers, leaving him almost certain to start Sunday's race from the pit lane.
Rain had already been a factor to greater or lesser degree throughout all three practice sessions at the Circuit de Spa-Francorchamps, but the weather had thoroughly stepped up its game in the run-up to Saturday afternoon qualifying leaving the track thoroughly drenched. Even though the rain had eased off considerably by the allotted hour, race control opted to briefly delay the scheduled start in order to allow the safety car to check the conditions and let the lake-like puddles have a chance to drain away. It turned out to be just a 12-minute hold-up before the green light was given and the cars headed out on track.
Q1: Norris and Verstappen quickest; Williams benefit from early inters
First to face the conditions were the Williams pair of Nicholas Latifi and George Russell both of whom were taking a gamble on intermediate tyres, followed by McLaren's Lando Norris and Alfa Romeo's Kimi Raikkonen who led the rest of the field out on full wets - for the time being at least. "Definitely wets so far, but should be inters pretty soon," reported Norris.
He was proved right when Latifi slid off the track and on to the sodden grass at turn 12, compromising Russell's lap in the process. Not that those on the full wets were exactly having an easy time of it either, with Mercedes pair Lewis Hamilton and Valtteri Bottas among those running wide on their own flying laps. But it was clear that the advantage was moving quickly toward the inters when Russell's second lap clocked in at 2:02.068s which was a whopping 5.5s quicker than Max Verstappen's first run. Latifi also regrouped to slot into second place, albeit nearly three seconds behind his team mate, leaving the rest of the field having to make an urgent return to pit lane to change their tyres - no simple task given the length of the Spa circuit and the time needed to complete an in-lap.
Alpine's Esteban Ocon was the first to switch and set a time on the inters, although his first lap was somewhat exploratory in nature and ended up still 1.582s behind Russell. Russell was finally briefly deposed from the top spot, went quickest again with his next run but was soon ousted once more by Norris and Verstappen. Even so, the Williams was still quicker than Lewis Hamilton who had moved up to fourth place ahead of Pierre Gasly and Charles Leclerc, who was in the Ferrari rebuilt overnight following his FP2 accident on Friday afternoon.
Subsequent laps saw Sergio Perez go quicker than Hamilton, and Latifi returning to the fray in sixth place. Hamilton's next lap ended with a big lock-up at the Bus Stop but such was his pace by this point that he still slotted into second behind Norris; his team mate, birthday boy Bottas, was also safely through to the second round as he put in the fourth best time as the clock ran out. Final flying laps saw Verstappen briefly go top before being bettered once again by Norris, while Perez and Russell managed to split the two Mercedes cars for fourth and fifth respectively.
As the water spray settled after all that frantic action, the drivers left in the bottom five and out of qualifying were Alfa Romeo pair Raikkonen and Antonio Giovinazzi, Haas duo Mick Schumacher and Nikita Mazepin, and AlphaTauri rookie Yuki Tsunoda. Ocon and his team mate Fernando Alonso had just managed to scrape through, while Latifi was rewarded for his early courage being the first out on inters with tenth place securing a well-deserved place in Q2.
Q2: Norris top again as Mercedes scramble to make the cut
With more rain predicted, everyone was back out on track the minute the lights went green for the start of the second round. Hamilton and Bottas initially came out on the same set of used inters they had used in Q1, but both were swiftly recalled by the team for an upgrade leaving them on the back foot as the rest of the field commenced their first flying laps.
Norris once again assumed control of the timesheets with a time of 1:57.235s which was 1.7s quicker than Russell, with Gasly then slipping between them for second. Sebastian Vettel was able to go quicker in the AlphaTauri, before being himself deposed by Verstappen - albeit the Red Bull proving to be still a tenth of a second slower than Norris. It left the pressure on Hamilton and Bottas to deliver: neither had good first runs and their second push laps were still only good enough for eighth and tenth respectively, meaning they remained at extreme risk of missing the cut and being eliminated.
With the threat of more rain now receding, the track was improving and everyone able to improve on their times. Verstappen went to the top with a lap of 1:56.559s, almost half a second quicker than Norris, with Perez up to third ahead of Leclerc, Vettel, Gasly, Daniel Ricciardo, Carlos Sainz and Lance Stroll. Russell had been pushed down to tenth and both Mercedes drivers were now out of the top ten altogether as they scurried back to pit lane for another set of fresh inters.
Norris returned to the top as the chequered flag came out, and seconds later Hamilton and Bottas both rose to the pressure of the occasion by going second and third ahead of Gasly who had just pipped Verstappen, the Red Bull driver unable to find more pace in his final run. Vettel settled for sixth ahead of Perez, and Russell succeeded in getting through to the final round pole shoot-out with a strong eighth position ahead of Ricciardo and Ocon.
Ferrari proved to be the conspicuous disappointment of the round, Leclerc missing the cut in 11th ahead of Latifi and Sainz only 13th. Alonso and Stroll now joined them on the sidelines for the remainder of the afternoon. But the mood of the moment was summarised by Hamilton, who came on the Mercedes team radio to pronounce: "That was way too close, man!"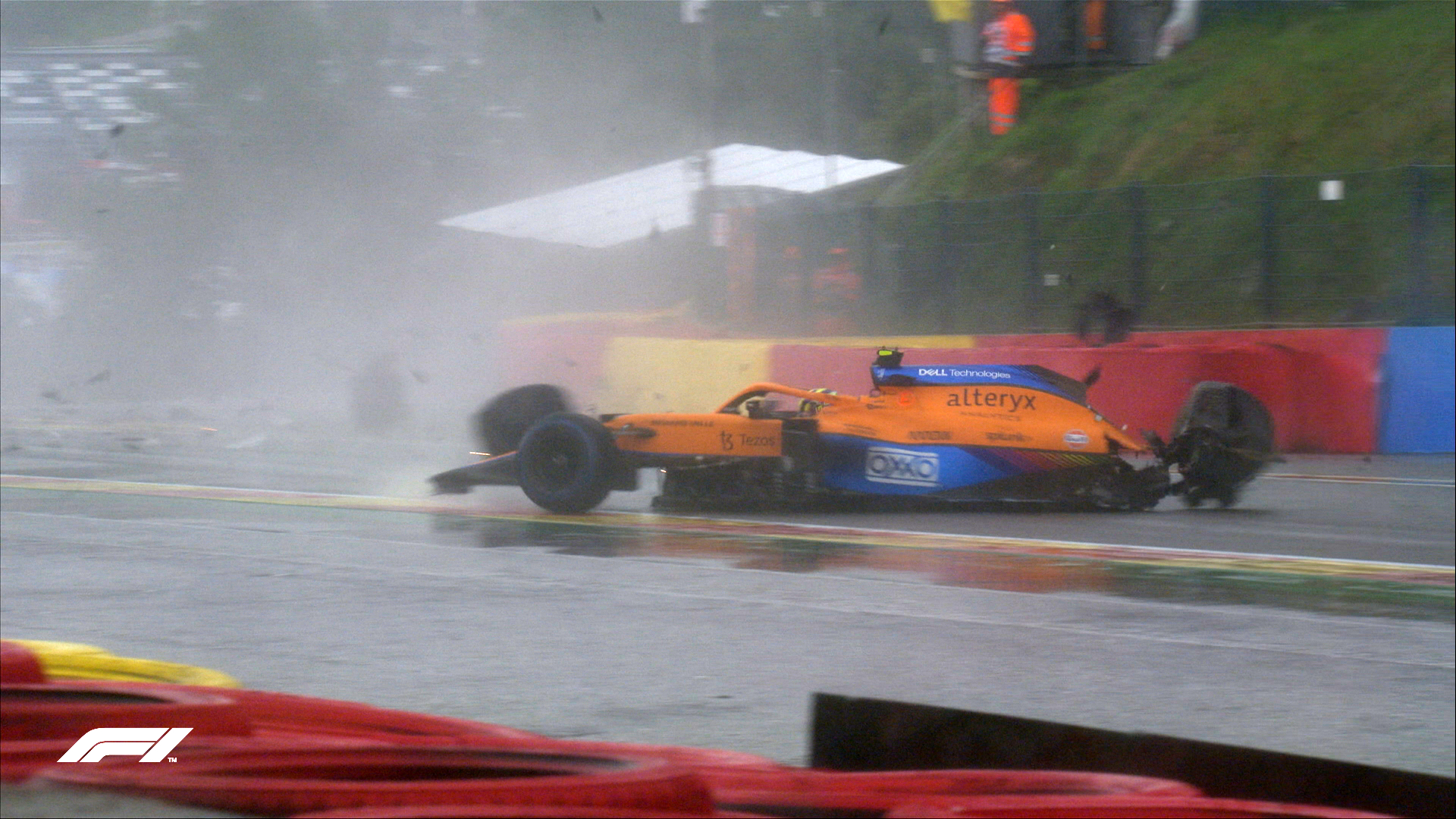 Q3: Verstappen snatches pole from Russell after red flag for huge Norris shunt
The rain had finally picked up as advertised, and started to fall heavily once more as the ten remaining combatants prepared to head out for the final round of qualifying. George Russell was first in the queue on pit lane when the lights went green, and this time even he was forced to go straight onto the full wets for the occasion. When he headed out, Vettel didn't like what he saw one bit: "I think they should red flag - there's too much water."
The man of qualifying so far Lando Norris was also soon complaining about aqua-planing to the McLaren pit wall. Unfortunately his comment was emphatically proven seconds later when he veered off at the top of Eau Rouge and suffered a major hit against the barrier which bounced him spinning across the track, leaving the car comprehensively wrecked and debris strewn everywhere. Vettel was soon on the scene and slowed to ensure that the young Briton was okay, not leaving until his reassuring thumbs-up had been returned. With the session immediately red-flagged, a winded Norris was able to jump out of the cockpit and head to the medical car.
There was a lengthy pause in proceedings as the remains of the shattered MCL35M was hoisted onto a low-loader, barrier repairs started, and the track cleaned. There was no conspicuous hurry as race control waited to see what would happen with the latest downpour, Bernd Maylander dispatched in the safety car as the proverbial canary in the coal mine to check track conditions and the viability of getting back underway, which finally got the go-ahead after nearly three quarters of an hour on hold. Conditions were still far from ideal but Mercedes and Red Bull were all on the inters; Ocon and Russell both started on wets, but quickly pitted again to change up.
Hamilton laid down the initial time of 2:01.552s which was 1.5s quicker than Bottas. Verstappen then made his bow in second albeit still a second off his title rival, with Vettel provisionally fourth ahead of Gasly, Perez, Ricciardo and Ocon. Perez then punched in a second flying lap to leap up to second, still half a second off Hamilton but ahead of Verstappen. Meanwhile after a slow first run Russell was sending shockwaves through the paddock with a hugely impressive run that saw him go top despite a brief lock-up at the chicane - only to be pipped to pole at the last minute by one final run for Verstappen.
It means that Verstappen will be sharing the front row with Russell for the start of tomorrow's race - surely not an outcome either man or anyone else watching could ever have expected. Hamilton will start from third joined by Ricciardo. Vettel and Gasly line up on the third row, with Perez left down in seventh place where he will start alongside Ocon. Bottas - despite ending today's session in eighth - will have to serve a five place grid penalty held over from Hungary. The fate of Norris depends on what McLaren can do by way of repairs overnight, but a pit lane start seems likely.
Gallery: The beautiful wives and girlfriends of F1 drivers
Keep up to date with all the F1 news via Facebook and Twitter