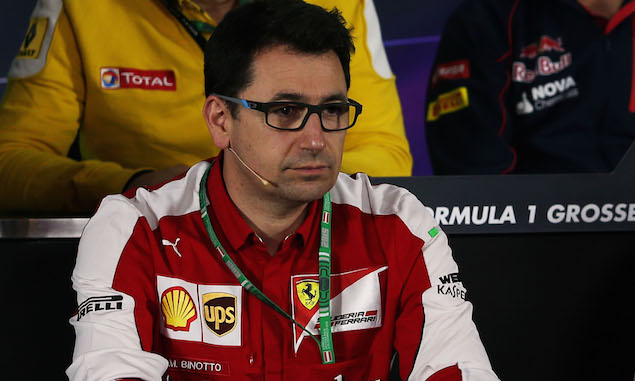 Ferrari made some "innovative choices" in the development of its new power unit for the 2016 season.
Following a disappointing first year with the V6 turbo power units in 2014, Ferrari made a clear step forward with its engine last year and was comfortably the second fastest team behind Mercedes. In order to try and close the gap to the defending champions even further, Ferrari power unit director Mattia Binotto says significant changes have been made.
"Compared to last season we have worked on two areas," Binotto said. "First architecture, so we have tried to compact it in order to have a positive impact on aerodynamics. The car is tighter and narrower compared to last year. We tried to move all the accessories.
"But we did not work only on architecture, we tried to improve combustion for example, inlet aspiration and also the turbo.
"This is the first step compared to the past, a step forward, so we have made important technical choices and innovative choices."
Alongside the power unit development, Ferrari claims to have been "very, very ambitious" with its design of the new SF16-H, which was unveiled during an online launch on Friday.
Ferrari will supply Sauber and Haas with power units in 2016, while Toro Rosso will also run 2015-specification Ferrari engines.
VIDEO: Mercedes W07 on track at Silverstone
GALLERY: First pictures of the FW38
Check out Red Bull Racing's 2016 livery
Key dates for the 2016 F1 season
Keep up to date with all the F1 news via Facebook and Twitter