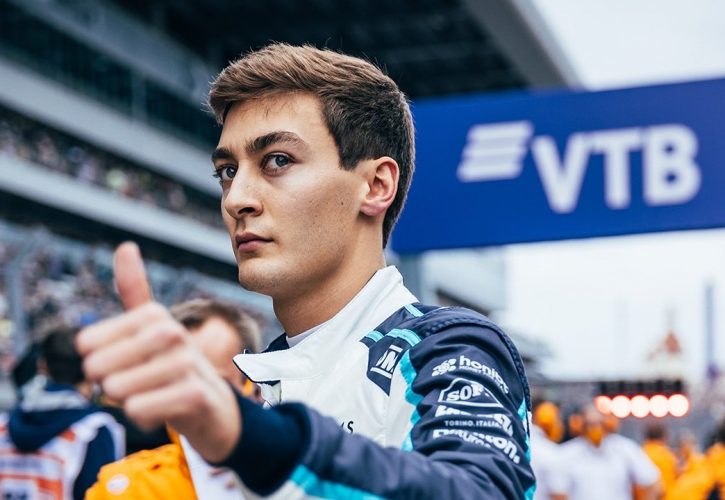 George Russell hopes next weekend's conditions at Istanbul Park won't be as bad as last year, but the confident Williams charger says his team is prepared for whatever the elements will throw at it.
Russell has been on an impressive run since scoring his first points with Williams in Hungary back in August, achieving top-ten finishes in Budapest, Monza and Sochi while the Briton was also awarded a bag of nine points for qualifying second in Spa's truncated Belgian Grand Prix.
The future Mercedes driver is hoping for more clement conditions at Istanbul Park than the treacherous weather that prevailed in last year's race, when the track's freshly-laid slippery tarmac added another layer of challenges.
But regardless of how conditions play out, Russell will be ready.
"When we raced there in 2020 it was somewhat of an ice rink, which did offer a lot of opportunities!" he recalled.
"I don't think it will be the same again this year, but we will be prepared for whatever the conditions have to throw at us.
"I'm hopeful we can take turn eight flat out as that will be a great experience in the current generation of cars.
"We've now scored points in four of the last five races so we're going into this weekend full of confidence and hopefully can achieve yet another good result."
Dave Robson, head of vehicle performance at Williams, expects the performance level of all teams to be lifted this year in Turkey thanks to a matured surface, an appropriate tyre selection and better weather.
"This year, the weather forecast is reasonable, the surface has matured and has been treated, and Pirelli bring a softer range of compounds," said the British engineer.
"All of this should significantly improve the performance of the cars, increase the drivers' confidence and lead to an exciting race.
"Although turn eight is the signature corner of the circuit, it is the earlier sequence of quick undulating corners that really provide the challenge.
"They demand a lot of the cars as well as bravery and commitment from the drivers. The mix of corners and some well-placed straights should aid overtaking and increase the strategy options on Sunday."
Russell's teammate Nichola Latifi reckons Williams is in a much better position this year to tackle Istanbul's challenges, especially in the dry.
"It can be a challenging circuit, especially with the triple-apex turn eight sequence and the track's elevation changes, but I feel that we're in a much better position to tackle that challenge this year," said the Canadian.
"We've been on a really strong run of races with good performances recently, so I'm happy and looking forward to continuing that trend at Istanbul Park"
Gallery: The beautiful wives and girlfriends of F1 drivers
Keep up to date with all the F1 news via Facebook and Twitter