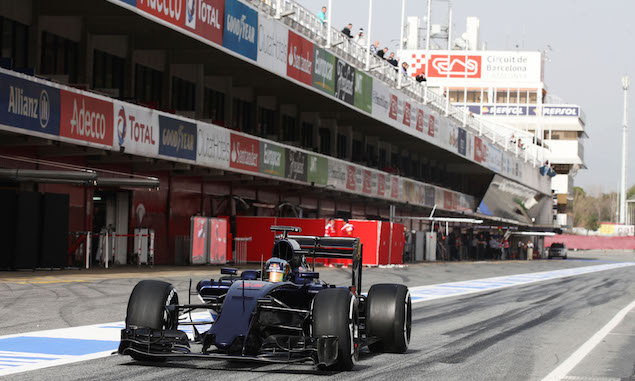 Toro Rosso ended its running early on the first day of pre-season testing due to gearbox concerns.
Carlos Sainz took the new STR11 - in a dark blue testing livery - out for its first laps on Monday after the team had managed to get the car ready in time for the start of the opening test. After an encouraging morning, Toro Rosso's running was limited in the afternoon and chief race engineer Phil Charles explained a reliability concern curtailed the team's schedule.
"Overall, we are pleased with today after a late decision on our power unit and fast birth of our new car," Charles said. "So to get to this point and run the car relatively successfully straight away is very pleasing and everyone in the factory should be proud of the big efforts made so far.
"In more detail: Carlos was quite positive on his initial feelings with the car. We completed our build-up runs in the morning and everything was progressing quite well, with a decent number of laps completed before the lunch break.
"Unfortunately, during one of the early runs this afternoon we saw something in the data that's a little bit strange in the gearbox oil system, so as a precaution we decided to stop the car. We will now take our time to understand it and hope for an even better day tomorrow."
Sainz himself declared himself relatively pleased with the way the day had panned out until the stoppage.
"We were all obviously very much looking forward to today and it was a great achievement to drive out after not the easiest of winters," Sainz said. "The team has done a great effort and today was quite a decent first day.
"We managed to have a very clean morning and it was also being a smooth afternoon up until we suddenly had to stop the car… So we had to unfortunately call it a day, but up until then it was all going perfectly and I felt good in the car."
Follow live coverage and timing from pre-season testing here
GALLERY: Pre-season testing day one
Keep up to date with all the F1 news via Facebook and Twitter