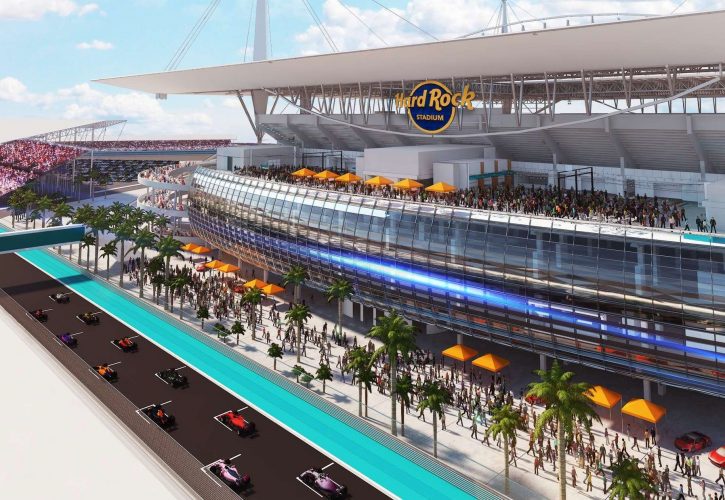 Next year's Miami Grand Prix is already a resounding success with F1's American fans, with the first event hosted in Florida's Magic City attracting at the outset 275,000 ticket pre-registrations.
Formula 1 confirmed last month that the race will take place on May 6-8 at the Miami International Autodrome, a 5.41km track laid out around the Miami Dolphin's Hard Rock Stadium in Miami Gardens.
Ticket sales opened last week online and organisers were submerged with an overflow of demand, which clearly validates Formula 1's growing momentum in the US.
"Fans are attending and tuning in," said Liberty Media CEO Greg Maffei earlier this week on a conference call with Wall Street analysts.
"We have never seen such a crowd in Austin for example, which set a crowd attendance record over the race weekend.
"Of the 400,000 people who showed up in Austin, almost 70% were attending their first grand prix. Usually it's figures more like in the mid-30s."
Miami's full capacity for next year's race is 80,000 spectators, but pre-registrations far exceeded that number.
"We are excited to have our second race in the US and welcome the Miami GP in May," added Maffei.
"Demand is high. 275,000 people pre-registered to purchase tickets, that's compared to a planned capacity of around 80,000.
"1,800 people have placed a $5,000 deposit for luxury hospitality, paddock clubs and suites. They sold out the availability in the first day.
"We've also sold through the available grandstand tickets on the first day."
Gallery: The beautiful wives and girlfriends of F1 drivers
Keep up to date with all the F1 news via Facebook and Twitter