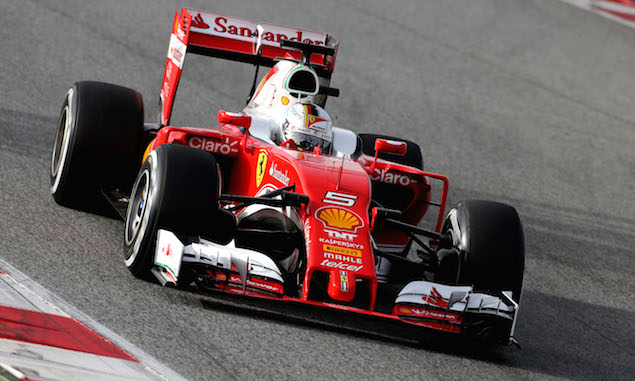 Sebastian Vettel says his first impressions of Ferrari's new SF16-H were "very positive" after setting the fastest time of the opening day of testing.
In a repeat of last year, Vettel was quickest on the first day while Mercedes proceeded to complete impressive mileage with its new car. Having enjoyed a positive first season with Ferrari in 2015, Vettel was encouraged by the first signs from the new car in Barcelona.
"I think it is a step forward," Vettel said. "It was the first proper day and it was good to get some laps and a first feel for the car, the first impression was very positive.
"It is better to be first in about a month's time. It is better than being last but it is not really important. We are fairly happy with the car and the way it felt, we did some laps, ideally we wanted to do some more but when everything is new and you have issues to look into, you take a bit more caution, you stop and unfortunately these things take time."
Asked if he could feel a difference between the new car and last year's chassis in which he won three races, Vettel replied: "Yes.
"Obviously it is not so easy to compare because the last time I drove the old car was a while ago, you know Paul Ricard was wet so it's quite different. It just seems like a good step forward. The interesting bit is to see what the others are doing and we have seen a bit of that today and the next couple of days will be quite interesting as well."
And Vettel is not concerned by Mercedes' impressive mileage, with Lewis Hamilton completing almost three times as many laps as Ferrari.
"It looks like they had a decent day. We [did not] do that many laps but we have plenty of reason to be happy, and we have plenty of things that we need to improve. Time is limited and in four weeks we will be in Australia. We know we have a lot of work to do."
Report: Vettel tops opening day of testing as Mercedes racks up mileage
Follow live coverage and timing from pre-season testing here
GALLERY: Pre-season testing day one
Keep up to date with all the F1 news via Facebook and Twitter