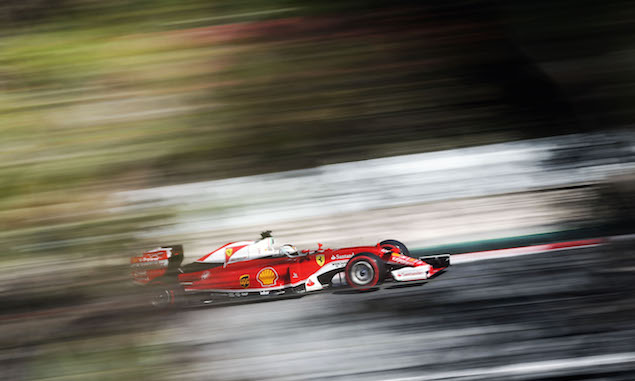 Sebastian Vettel was again fastest on day two of testing as McLaren completed 119 laps with the MP4-31.
Ferrari has topped the times throughout the first test so far, with Vettel's fastest time from the morning session going unbeaten in the afternoon. The four-time world champion set the pace on Pirelli's new ultrasoft tyres on Tuesday morning, and a busy afternoon saw him complete 126 laps in total, though his day ended with a stoppage at Turn 3 in the final five minutes.
Daniel Ricciardo was second fastest for Red Bull, but like Vettel he also ran the ultrasoft tyre in the morning session to set his time. Of more note was Red Bull's strong mileage with a Renault power unit, completing 112 laps on a productive day with the RB12.
Only three teams failed to break the 100-lap mark on Tuesday, and once again it was Mercedes with the largest total. Nico Rosberg was fourth fastest behind Sergio Perez but managed to exceed Lewis Hamilton's total from Monday by completing 172 laps throughout the day. Rosberg's best time was over two seconds off the pace, but he set it on medium tyres as the team focused on mileage.
Mercedes was also evaluating upgrades despite it only being the second day of testing, with an innovative new bargeboard design being trialled on the W07.
Another team to rack up impressive mileage was McLaren, with Fernando Alonso's first day in the car seeing him manage a total of 119 laps. While such a tally was strong in isolation for McLaren, it was also a symbolic number as it brings the team's total for the first two days up to 203 laps, which is the exact same amount of laps it completed throughout the first two tests a year ago.
Alonso's programme saw a number of inconsistent laps as he often circulated comfortably off the pace during the morning session. On one of the representative efforts saw the Spaniard set the ninth fastest time, 3.2s slower than Vettel's ultrasoft effort.
While Haas didn't reach three figures it was able to boast the sixth quickest time and a solid 79 laps on only its second day of F1 testing. Of more significance the team bounced back from Romain Grosjean's front wing failure on Monday to give Esteban Gutierrez a day free of any major dramas.
The same could not be said of Renault, with Jolyon Palmer again missing out on significant running on his second day in the RS16. Having had an encouraging morning, the car exited the pit lane early in the afternoon session sounding rough and immediately stopped at Turn 2 with smoke pouring from the rear. Palmer did not rejoin, leaving him with just 79 laps to his name after half of his pre-season track time.
Max Verstappen was slowest overall on the second day but Toro Rosso bounced back from a morning stoppage to also break the 100-lap barrier. Verstappen stopped at Turn 13 to bring out a red flag before lunch but had a smooth afternoon's running in the STR11.
| Pos | Driver | Team | Time | Laps |
| --- | --- | --- | --- | --- |
| 1 | Vettel | Ferrari |  1:22.810 | 126 |
| 2 | Ricciardo | Red Bull |  1:23.525 | 112 |
| 3 | Pérez | Force India |  1:23.650 | 101 |
| 4 | Rosberg | Mercedes |  1:24.867 | 172 |
| 5 | Ericsson | Sauber |  1:25.237 | 106 |
| 6 | Gutiérrez | Haas |  1:25.524 | 79 |
| 7 | Bottas | Williams |  1:25.648 | 134 |
| 8 | Wehrlein | Manor |  1:25.925 | 71 |
| 9 | Alonso | McLaren |  1:26.082 | 119 |
| 10 | Palmer | Renault Sport |  1:26.189 | 42 |
| 11 | Verstappen | Toro Rosso |  1:26.539 | 121 |