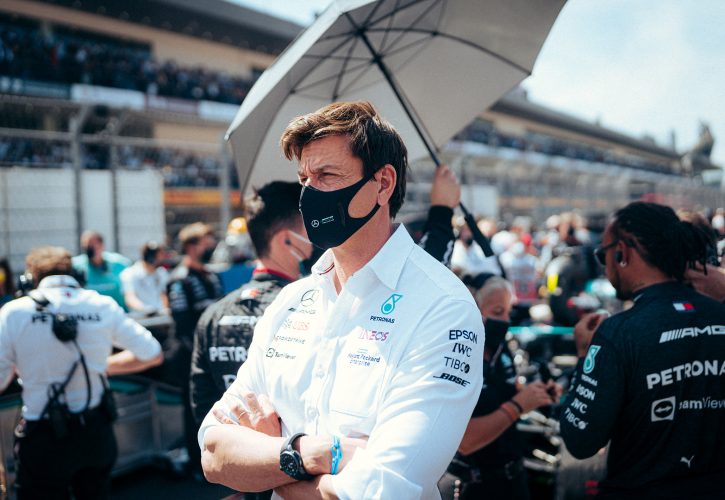 Mercedes boss Toto Wolff believes a more balanced competitive field, with five or six teams in contention for wins, will emerge in the future thanks to F1's budget cap.
Formula 1 and the FIA implemented a $145 million cost cap last season that has been cut to $140 million for this year and will fall to $135 million from 2023 onwards.
The three-year glide path was introduced to allow for the sport's biggest teams – namely Mercedes, Red Bull and Ferrari – the time to adjust the size of their operations to the new financial constraints.
Needless to say, when the cost cap measures were rubber stamped in 2020, the big teams were unhappy with the prospect of being forced to reduce the scale of their efforts, fearing that reigning in costs would have a direct bearing on their performance on the track.
But since, Wolff has admitted that capping expenditures was the only reasonable course of action, both financially and in terms of ensuring a more level playing field in the sport overall.
"Of course, the teams that had deep pockets were not particularly happy about the fact that an advantage was taken away from us," Wolff told Germany's Auto Motor und Sport.
"But the whole thing had degenerated into an arms race between Red Bull, Ferrari and us. Now it will all be more balanced.
"I think that in the future, five or six teams will be in contention for victories. That is good for the sport. Also, the same team doesn't always win the Superbowl."
Although supportive of F1's budget cap measures, Wolff acknowledged that Mercedes faced significant challenges to adhere to the changes, with adjustments taking place across almost all departments.
"We had to carry out a restructuring that not only affected people, but also essential processes had to be changed," the Austrian explained.
"For example, for the first time we had to train financial officers to identify cost savings across the entire value chain.
"There is no single cost factor that was most affected. We went through all areas and tried to lose as little performance as possible."
Ultimately however, the Mercedes boss reiterated his view that F1's cost cap requirement are in the sport and the teams' best interest.
"I believe that the budget cap will bring a lot of things into line," Wolff said.
"If one finds a loophole and runs away with it, everyone will copy it. The cars will all be very similar. There may still be differences in the first year.
"After that it will even out. There will no longer be a team that is a second ahead."
Gallery: The beautiful wives and girlfriends of F1 drivers
Keep up to date with all the F1 news via Facebook and Twitter