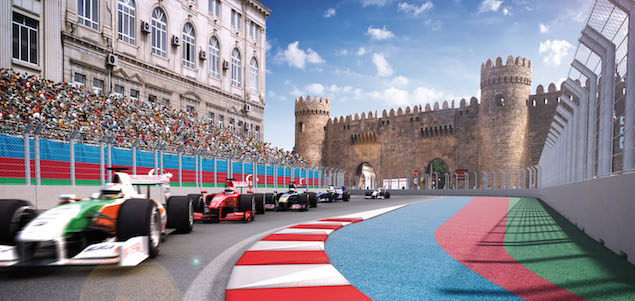 Baku City Circuit (BCC) chiefs have released a promotional clip ahead Azerbaijan's inaugural Formula One race to say preparations are well and truly under way.
Plummeting petroleum prices have fueled allegations that this year's European Grand Prix was under threat, with the oil-dependent nation suffering massive economic loss and its currency – the Manat – greatly devalued.
Having moved swiftly to dismiss the rumours, BCC organisers now announce that "most primary construction works" and "more than 90% of first-stage road works" have been completed.
"We are delighted to see our preparations for the arrival of Formula 1 in Baku developing on schedule," said Nigar Arpadarai, the venue's head of marketing and communication department.
"As we get closer to the race weekend, our excitement and joy at hosting this major sporting event continues to grow. We are pushing ourselves to the limit and are quite literally leaving no stone unturned to ensure we deliver the best motorsport event of the year in Baku this coming June."
Baku bosses have also released a series of figures and characteristics about their 6.0-kilometre, 20-corner street circuit, saying they expect to see cars lap at 211kph on average with top speeds reaching 340kph.
Finally, the event's organisers have allayed fears regarding safety concerns about racing into the twilight. The 2016 European Grand Prix is set to start at 18:00 local time in order to avoid a clash with the end of Le Mans 24 Hours classic, which takes place on the same June 17/18 weekend.
The statement reads as follows: "With sunset in Azerbaijan taking place at approximately 21.14 local time in June, the three-hour window between the start of the race and sunset will allow F1 drivers enough time to race through the streets of Baku during daylight."
Check out the layout of the new Baku City Circuit in the video below.
F1 not technically ready yet for new qualifying format - Ecclestone
Feature: The first test in numbers
Keep up to date with all the F1 news via Facebook and Twitter