Mercedes says last weekend's late safety car in the Miami GP came at the "completely wrong time" for Lewis Hamilton and left the team itself  "between a rock and a hard place" in terms of deciding the right strategy for the Briton.
The Brackley squad pitted George Russell at the onset of the Virtual Safety Car on lap 41 of 57 before the neutralization was upgraded to a full Safety Car period.
The move greatly benefitted Russell in his battle against Hamilton, while the latter was left a sitting duck.
In Mercedes' Miami GP debrief video on YouTube, technical director Mike Elliott explained the background to the team's decision not to pit Hamilton during the SC period.
"The VSC came first, and we pitted George, exactly the right thing to do," said Elliot.
"We were then in this position where we would have had quite a big gap between Valtteri [Bottas], closely followed by Lewis, with George a chunk behind.
"And at that stage of the race, with both Valtteri and Lewis on the Hard tyre, Lewis was closing into the back of Valtteri and was going to have a chance to overtake him on track for a normal racing pass, and that's what we expected the race to sort of pan out.
"But that Virtual Safety Car very quickly turned into a full Safety Car, and at that point it was just going to close all the gaps up, compress the field back up, and we were going to be in a position where George was on a brand-new Medium, against an ageing Hard tyre on Lewis and an ageing Hard tyre on Valtteri."
Elliot admitted that Hamilton suffered wretched luck in Miami when it came to the timing of the Safety Car.
"So, we were caught between a rock and a hard place," he added. "The Safety Car came at the completely wrong time for Lewis.
"If we didn't pit him, he was always going to have George behind him on a much newer tyre. If we did pit him, he would lose track position to George, he would end up behind George on track.
"Although Lewis would have had a new tyre, the only new tyres we had available to us was the Hard or the Soft, and while you might think the Soft would have been a good solution, we knew that the Soft tyre would overheat very quickly.
"We knew it would overheat even more quickly because he was just behind George fighting on track, and that would have put even more heat into the tyres.
"So, we were in that position where we were sort of caught between a rock and a hard place, and there was no sort of real right answer."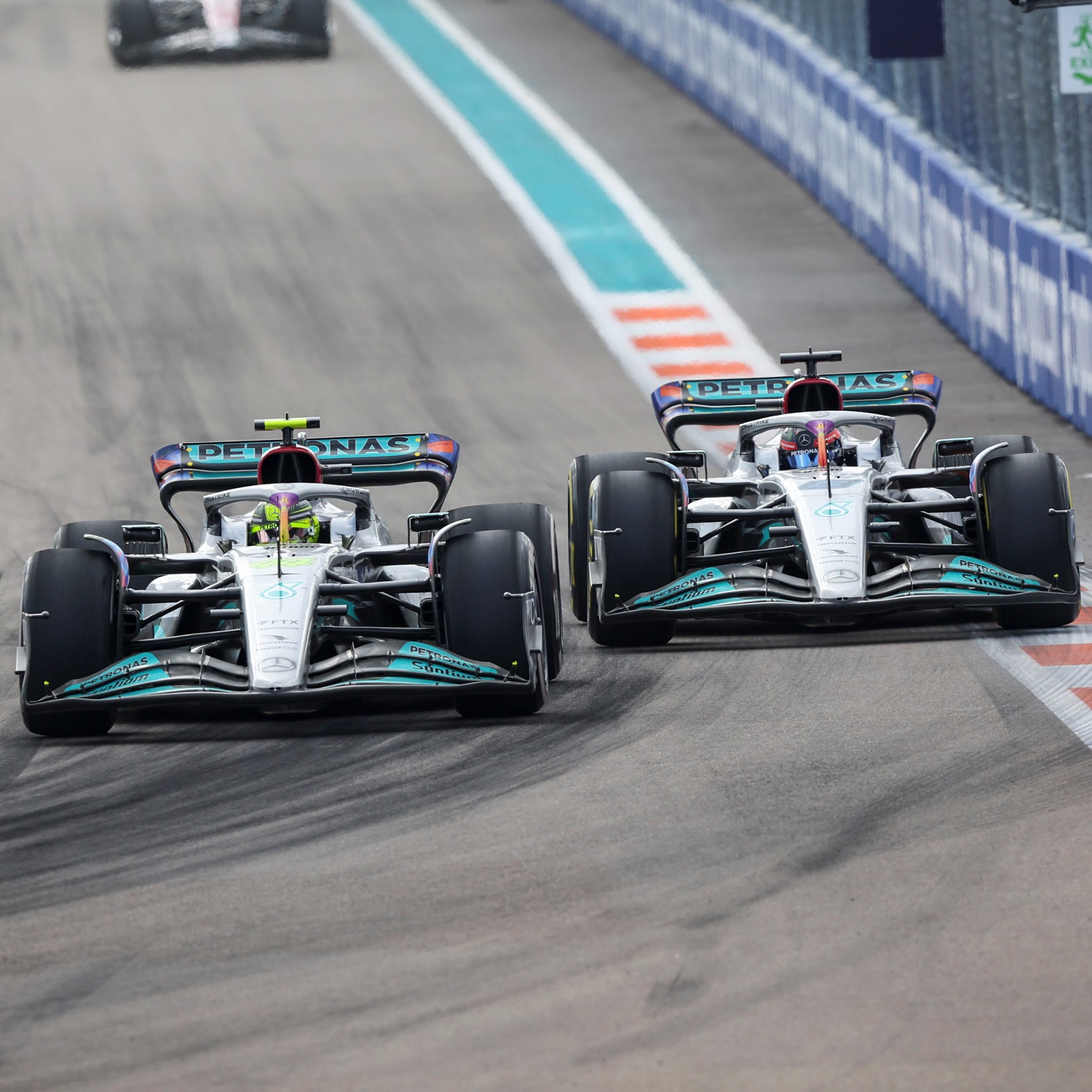 Although Mercedes ultimately decided to keep Hamilton out on track, chief strategist James Vowles still queried the Briton on whether or not he wanted a fresh set of tyres, but the seven-time world champion sent the ball back into his team's court.
"If you were watching the TV, you would have seen us asking Lewis that question, what did he think he wanted to do?," said Elliot.
"That was just because there was no right or wrong answer, and sometimes the drivers have a better feel in the car than we as the engineers do looking at the data.
"So, as it happened, it was just the circumstances that took place meant Lewis lost out because of the Safety Car.
"Unfortunately, Lewis has been unlucky a couple of times already this season.
"But it is just the way that things pan out and hopefully over the season it balances up, and he will have some advantages that come to him through the timings of the Safety Cars in future races."
Keep up to date with all the F1 news via Facebook and Twitter