Venturi's Edoardo Mortara executed a flawless race from pole position to win Formula E's first round of racing this weekend at Berlin's Templehof airport.
The Swiss-Italian-French racer crossed the checkered flag with a 1.7s cushion over DS Techeetah's Jean-Eric Vergne while Mercedes' Stoffel Vandoorne made a remarkable recovery after falling down the order at the start to finish third, 1.9s adrift from the day's winner.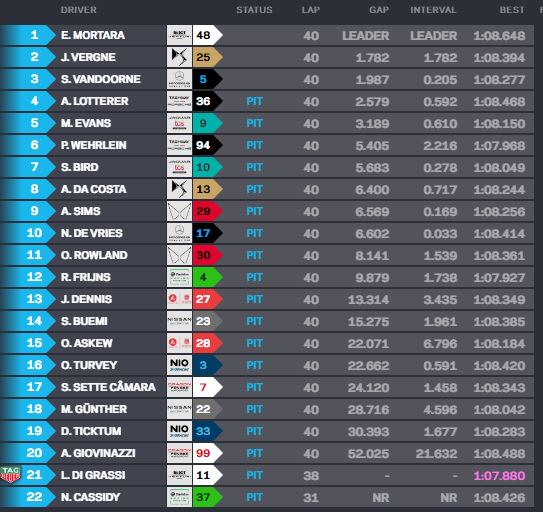 From the outset, Mortara held his own at the head of the field, followed by Mahindra's Alexander Sims and Antonio Felix da Costa.
But a botched start by championship leader Vandoorne dropped the Belgian from P8 to a lowly 12th, while Jaguar's Sam Bird went the other way, progressing from P11 to 8th.
In the race's opening laps, Sims first lost out at the hairpin to da Costa, then to Porsche's André Lotterer at the same spot and finally to Vergne who completed the top four.
But the group remained tightly packed until Attack Mode kicked in dislocated the running order.
Porsche's charged-up Pascal Wehrlein invited himself into the leading group, passing Vergne to position himself third behind Mortara and da Costa, but the former had yet to use his Attack Mode.
As the Venturi driver tightened his grip in the lead, Lotterer moved ahead Wehrlein, as did Vergne.
With 22 minutes to go, Mortara finally charged up, relinquishing the lead to Lotterer but swiftly recouping what he felt was rightfully his one lap later.
The train of cars thus comprised Mortara, Lotterer, Sims, Vergne, da Costa and a feisty Vandoorne but positions interchanged behind the Venturi charger.
Second jolts of energy in the closing stages of the race set up a three)way battle between Lotterer, Vandoorne and Mortara who leapfrogged his two rivals in short order to resume once again his lead.
But Vergne crept up from behind to overhaul Lotterer and - aided by his timely FanBoost – engulf Vandoorne, making it a four-way battle.
Pressured by JEV, Mortara lured the Frenchman into an unsuccessful attack that gave him the breathing he needed to seal his win while Vergne was able to hold off Vandoorne.
After the checkered flag, Mortara's victory was put in doubt, with the stewards investigating the Venturi driver for a pit lane speed infringement. However, it was ultimately decided to hit Mortara with a €1.200 fine.
Keep up to date with all the F1 news via Facebook and Twitter