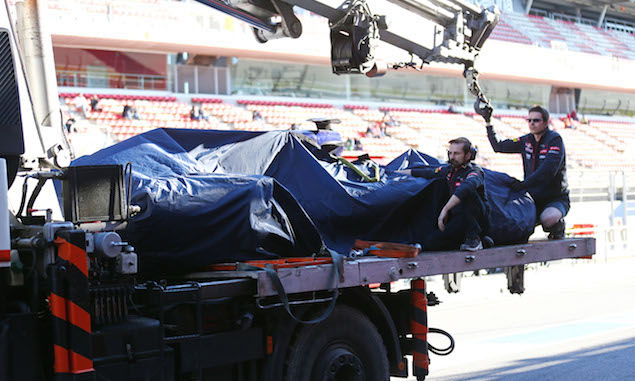 Carlos Sainz Jr says his heavy crash on the final day of the second test was due to high winds at the Circuit de Catalunya.
Having been fastest in the opening session, Sainz Jr hit the tyre barrier on the outside of Turn 3 and damaged both ends of the car. The impact required him to be checked over at the circuit's medical centre and ended his day early, with Sainz Jr explaining that the weather conditions had played a part in the crash.
"The important thing is that I'm OK obviously, as you can see, but it was quite a hard accident at Turn 3," Sainz Jr said. "Today there was very high winds which did not make life for the drivers very easy. There were very inconsistent winds, very high winds, and this was for sure not very easy for the drivers.
"Unfortunately in Turn 3 on one of my long runs with the hard tyre which is not very grippy here I lost the car with snap oversteer and I couldn't correct it. I went in to the wall, damaged the car quite badly but these things happen. Today was my turn, you have seen many other good drivers and drivers in the past crashing in the past. Sometimes it happens in testing and you just have to learn from it."
And Sainz Jr explained that Turn 3 was the worst corner for the conditions due to the length of the right-hander.
"Yeah, it's fast and it's a very long corner where you do a complete 180-degree turn but at a very high-speed way. So you have completed different balances throughout the corner; on entry you have one balance, on mid-corner you have another and then on exit you have the complete opposite balance to what you had on entry.
"So it's not easy to measure, it's not easy for the driver to handle it. Why? Because one lap it's like that then the other lap there's no wind and you can do it normally, so for sure it was not an easy day from that point of view and as you can see I was not the only one out there making mistakes."