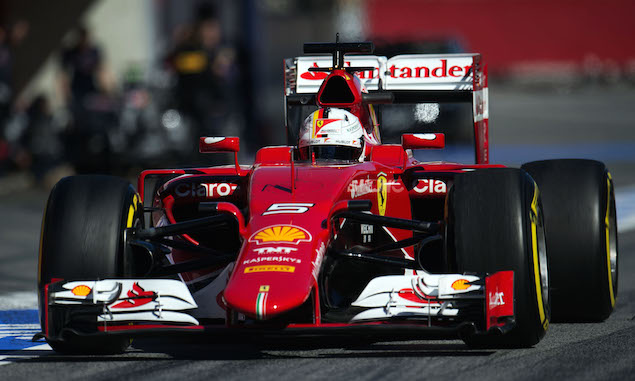 Sebastian Vettel says he hopes to see Fernando Alonso "back in top form at next week's test" following his crash on Sunday.
Alonso was airlifted to hospital for precautionary checks after crashing shortly before lunchtime on the final day of the second test, with McLaren later announcing that a CT scan had shown Alonso to be "uninjured". Vettel - who was following Alonso at the time of the crash - sent a message to the former Ferrari driver following the end of running.
"First of all, I'd like to wish Fernando a quick recovery," Vettel said. "Luckily, we have already received some good news, so I hope he will be back in top form at next week's test."
Focusing on Ferrari's day, Vettel says there were some reliability issues which limited him to 75 laps but he is still encouraged by the team's progress.
"As for today's test, I can say that we have focused mainly on the car's reliability, completing some long-runs, and testing various settings and tyre configurations.
"We could not run as much as we'd like, but at this stage of winter testing there are always some teething problems you have to deal with. Overall, I can confirm that my feeling with the car is positive and now I'm looking forward to the next week of testing."