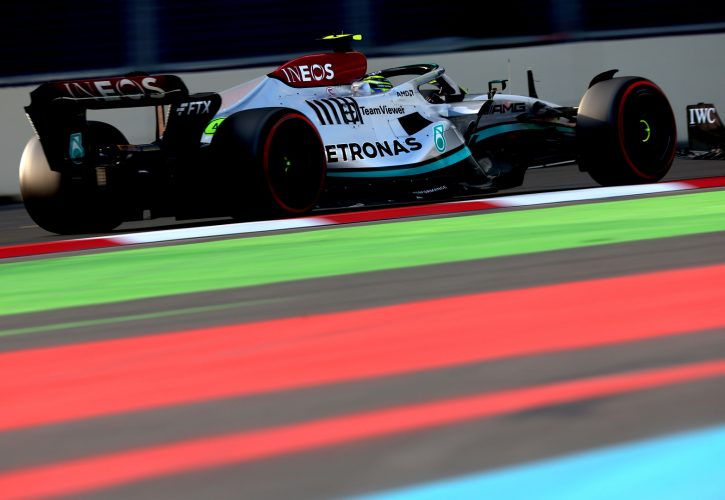 Tito Wolff says the "draggy" aerodynamic characteristics of Mercedes' W13 coupled with its low ride-height and bottoming are significantly impacting the car's pace in Baku.
Neither George Russell or Lewis Hamilton succeeded in positioning their troubled car higher than sixth in free practice this weekend, with both drivers enduring once again a bouncing and uncomfortable ride.
But the team's W13 is also significantly slower on the Baku's massively long straight than its rivals, a weakness that Wolff estimates at a second per lap.
"We have a car that is too draggy, so the drivers made the comment that it seems like we have a parachute behind the car," said the Mercedes boss.
"So between the draggy car and the bottoming this is the main deficit that we are seeing here on the straight.
"Others like Ferrari has it too, even a bit worse, but on the different pieces of the track we are bottoming out badly, which affects our aerodynamics and affects our straight-line speed greatly. And as a consequence, the ride is not very good.
"And this can cost several tenths and yesterday we were losing a second on the straights to Ferrari and Red Bull."
Russell suggested that F1's bouncing issues are to the point where he can't see himself able to endure them in the coming years despite the freeze on the sport's regulations. Wolff is logically sympathetic to his drivers' suffering and grievances.
"We are seeing cars that don't have the issue and then others that have it worse," he said. "Clearly I can talk for our two drivers they are having issues.
"It goes to a point that even a physio can't fix it sometimes. So we need to see how that develops and understand also why it's much tougher in some cars than in others."
Wolff was adamant that Mercedes isn't being weighed down by its engine on the straight. But the team's performance in Baku is a far off the positive expectations expressed by the Austrian after last month's Spanish Grand Prix in Barcelona.
"I think our engine guys did a great job in understanding how we can optimise the software and the deployment of the power unit since the beginning of the year so our problem here is not the engine," Wolff said.
"In Barcelona we had a big rear wing, and the car was pretty stable on the straight and we were among the quickest, but there is never one thing and certainly the engine is not the area I want to point at."
Keep up to date with all the F1 news via Facebook and Twitter