Aston Martin has updated the rear wing on its AMR22 in Hungary with an element that is a clear departure from the widespread designs used by its rivals.
The aerodynamic appendix which features a sculpted endplate-wing assembly that looks closer to last year's specification than the design used by this year's new-generation cars is proving a bit controversial.
The rounded, rolled over top end of the component's endplate curves inwards, while the mainplane of the wing attaches to the vertically extended endplate in a more traditional way.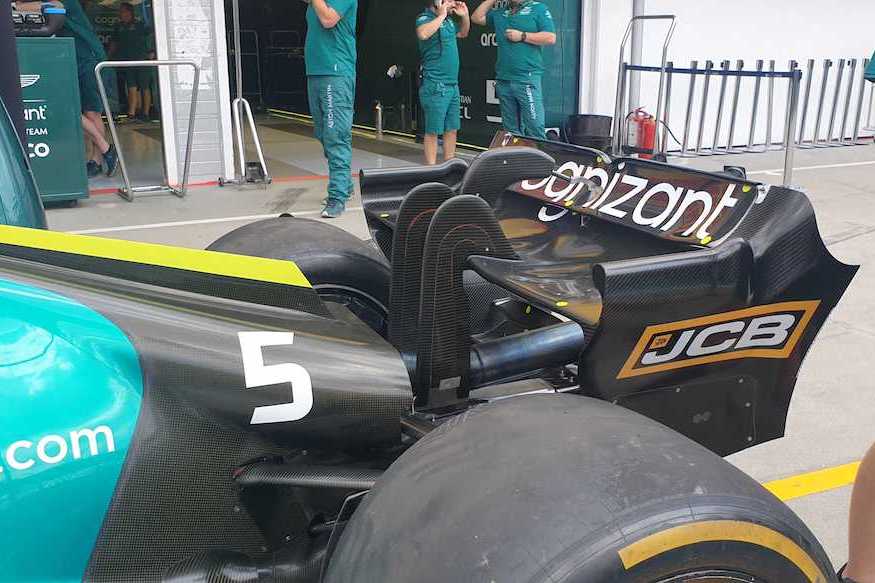 The assembly raised a few eyebrows in the pitlane on Friday as its design appeared to defeat one of the main objectives of the 2022 F1 regulations: to make cars easier to follow each other by limiting airflow disruption - or dirty air - off the rear wing.
But it appears that Aston Martin's engineers have exploited a loophole and interpreted the regs in a way that allows for the vertical extension of the endplate and its curvature, with more downforce the end result.
According to Sky F1, Aston Martin consulted with the FIA on the legality of its rear wing and the team was given a green light by the governing body.
The purpose of the unique wing design is to provide Aston's car with more downforce around the Hungaroring.
Whether the element will prove effective at the venue, only time will tell this weekend. But many in the pitlane saluted Aston's creative interpretation of the regulations with an aero solution that rival engineers are likely closely analyzing as we write.
In Friday's first practice, Aston driver's Sebastian Vettel and Lance Stroll clocked in P11 and P12.
Keep up to date with all the F1 news via Facebook and Twitter