Aston Martin team boss Mike Krack says the innovative rear wing showcased by his team in Hungary proves its ability to "steal a march" on the opposition.
The Silverstone-based outfit surprised its rivals in Hungary when it introduced the updated aero element that was a clear departure from the widespread designs used by F1's teams this season.
The Aston's rear wing featured a sculpted endplate-wing assembly that looked closer to last year's specification than to the design used by this year's new-generation cars.
However, the wing drew intrigue but also sparked some controversy as many believed the element's design did not respect the spirit of F1's 2022 rules.
It was feared the design defeated one of the main objectives of the sport's new regulations: to make cars easier to follow each other by limiting airflow disruption - or dirty air - off the rear wing.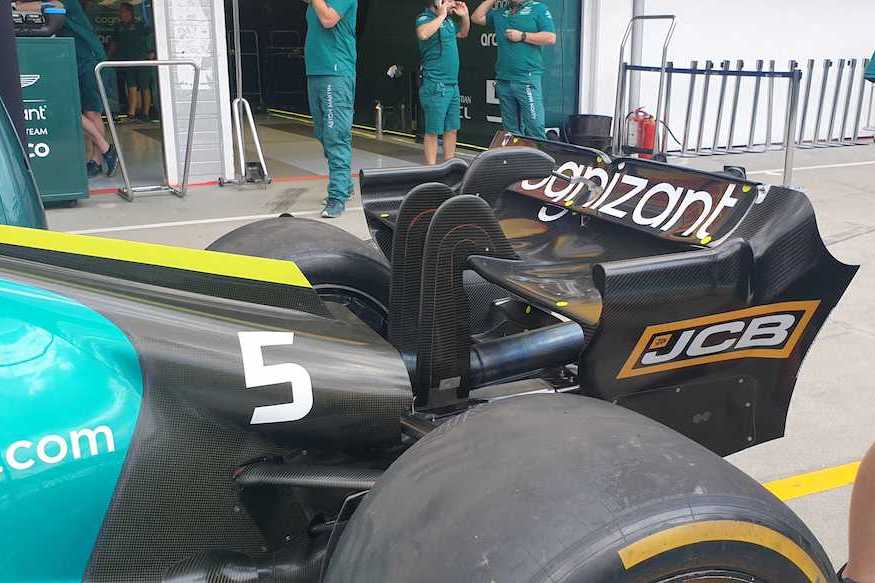 Beyond the pointed reaction of Aston's adversaries, Krack highlighted his team's engineering creativity.
"The new rear wing we brought to the Hungarian Grand Prix underlined our ability to innovate and steal a march on the opposition by coming up with ideas our rivals haven't," said the Luxembourger.
"A lot of people think it's easy to just design a new wing, build it and put it on the car.
"But if you look at the wing, or any of the upgrades we bring to the car, the way they're engineered, optimised, and produced, it's an art form.
"Plus, you can't just build one of them, you have to build three or four of the same specification to have enough for both cars and spares."
Further up the pitlane, Alpine sporting director Alan Permane cast an attentive eye on Aston's development and guaranteed that rival engineers were already hard at work copying the AMR22's novel design.
"I promise you there's nine other teams running that in CFD at the moment and if it's quicker, you'll see nine more of them, I imagine," said Permane.
"I can't see why that wouldn't happen if it's completely legal. I get your point about the intent of the regs but we just want to go fast and be reliable so that's really for the FIA and Formula 1 to work out.
"If they've circumvented the intent and I doubt there's anything that can be done about that this year, possibly for next year but I'm very sure if it's faster, then you'll very soon see more of them."
Keep up to date with all the F1 news via Facebook and Twitter