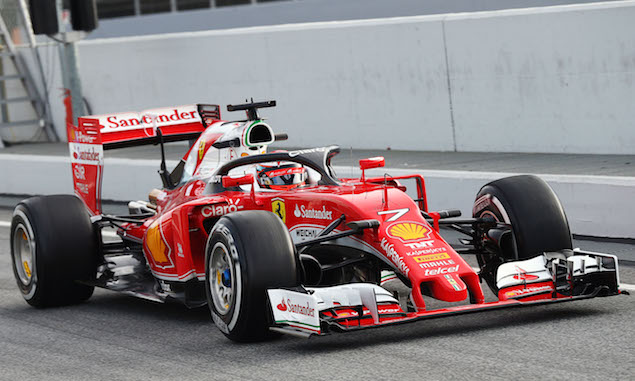 Kimi Raikkonen says the Halo cockpit protection made "surprisingly little difference" to his visibility in the car.
Ferrari tested a version of the concept during its installation lap on the penultimate day of pre-season testing in Barcelona, with Raikkonen completing one lap with the Halo on the car. After the end of testing, Raikkonen said he had expected the device to have more of an impact on his visibility.
"Obviously it's slightly different view, we're a bit limited in the front but I don't think it's the final version so surprisingly little difference," Raikkonen said.
"[Vision is] a bit limited in the front, but I'm not sure if it's the final version either, so it can change."
After setting the fastest time on his final day in the car, Raikkonen declared himself satisfied with Ferrari's running.
"It was pretty OK. In many ways could have done faster laps times if we wanted and slightly more running, it was one of the best days we managed to do, not any issues. We did a lot of laps. We had to stop once in race distance for red flags, but apart from that it was OK."
Follow live coverage and timing from pre-season testing here
Keep up to date with all the F1 news via Facebook and Twitter