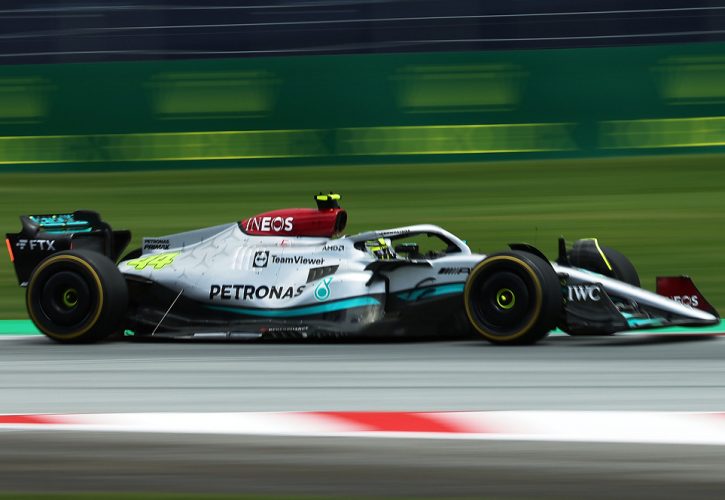 Mercedes and fuel and oil partner Petronas are getting a head start on Formula 1's future engine regulations by extending their collaboration beyond 2026.
Petronas has been a sponsor of the Mercedes F1 team since the German manufacturer's return to Grand Prix racing as a works outfit in 2010.
But the relationship transformed into a close technical partnership with the advent of the hybrid era in F1 in 2014, with the Malaysian oil company reaping the benefits of the Brackley squad's unwavering success during eight consecutive seasons.
With the arrival of its new generation power unit in 2026, F1 will usher in a new era where sustainable fuels will become mandatory, and Mercedes and Petronas are anticipating the sport's new engine rules by committing to their partnership four years in advance.
"Today we are doing something a little bit unusual - announcing a partnership that will begin in four years' time," said Mercedes F1 boss Toto Wolff.
"This sends an important message: our team and PETRONAS are no longer just partners, we are family, and we will be one team for many more years to come.
"From 2026, advanced sustainable fuel will be at the heart of F1 performance - and this gives us a fantastic opportunity to demonstrate our expertise in this domain, through both the power unit and Petronas Fluid Technology Solutions.
"We are excited to be racing into the future alongside Petronas, with the ambition to set the standard once again, in our on-track performance and by pioneering the transition of a global sports team to a net-zero future."
Mercedes has committed to becoming net-zero by 2030, with the manufacturer relying on sustainable fuels not only to power its cars on the track but also the team's transporters on the road as well as in the area of air transport.
"With our long-standing partnership and extensive experience in formulating the Fluid Technology Solutions for the team, Petronas is fully equipped with the capacity and capabilities to perfect the technology to produce and supply 100% advanced sustainable fuel for the next-generation power units," said Datuk Sazali Hamzah, Executive Vice President and Chief Executive Officer of Petronas
"In that same vein, we are already on track with developing a greenfield bio refinery and co-processing at our facilities to supply sustainable aviation fuel (SAF) as a cleaner and more viable option for aircrafts in our effort to support the aviation industry needs
"This is in line with Carbon Offsetting and Reduction Scheme for International Aviation (CORSIA) which is expected to come into mandatory effect by 2027 as well as Federation Internationale de l'Automobile's (FIA) net zero by 2030 commitment - both of which will affect the logistics operations of F1 teams."
Keep up to date with all the F1 news via Facebook and Twitter