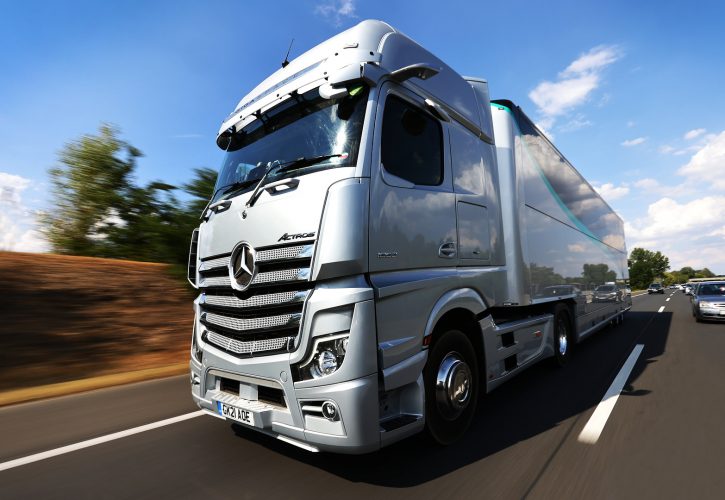 Mercedes has reported an 89 per cent reduction in CO2 emissions from its race truck fleet over the last three races of the European stage of the 2022 season, by using the latest biofuels for the first time.
HVO100 (Hydrotreated Vegetable Oil) biofuel was used in 16 Mercedes race trucks for the journey from Spa-Francorchamps to Zandvoort and on to Monza, a total distance of almost 1400km.
A total of 44,091kg CO2 was saved as part of the team's push to further reduce CO2 emissions and achieve verified Net Zero by 2030. The latest trial provided insights and identified challenges into the full adoption of biofuels for 2023.
Mercedes has already become the first Grand Prix outfit to invest in Sustainable Aviation Fuel to help it achieve a net 50 per cent reduction in the team's carbon footprint for race personnel flights for flyaway events.
One of the team's trucks had been initially tested using HVO100 biofuel from the Hungarian Grand Prix back to Brackley in the UK.
After the summer shutdown, three trucks from the UK and 13 that had been parked in Belgium to travel to Zandvoort and Monza, with only the final 20km requiring the use of diesel fuel due to supply challenges.
"Sustainability is at the heart of our operations," commented Mercedes team principal Toto Wolff. "Trialling the use of biofuels for our land freight is another example of our commitment to embed sustainability in every decision we make and action we take.
"We aim to be on the cutting edge of change and hope we can make the adoption of sustainable technology possible as we are all in the race towards a sustainable tomorrow," he added.
Mercedes' sustainability and environmental manager Alice Ashpitel added: "We are committed to using our global motorsport platform to be leaders in the journey towards not just sustainable racing but a more sustainable future.
"The outcome of this trial with an 89% reduction in emissions is another example of our drive to become the most sustainable sports team and comes following a period of commitments from the team to invest in industry-leading sustainability strategies."
The team's announcement came in the wake of the unveiling of Formula 1's race calendar for 2023. As well as featuring a record 24 races, the itinerary has been criticised for failing to group races geographically to reduce travel.
The announcement came as a surprise to F1 teams, who were unhappy not to be consulted by the FIA about a flyaway triple-header in the US, Mexico and Brazil.
There will also be a lot of travel in the early part of the season with the Australian GP followed in quick succession by races in China, Azerbaijan and Miami.
Gallery: The beautiful wives and girlfriends of F1 drivers
Keep up to date with all the F1 news via Facebook and Twitter