Pirelli says F1's switch to 18-inch wheels and track surfaces changes at Marina Bay mean that teams will be facing "almost a totally new race" in Singapore next weekend.
Due to the global Covid pandemic, Singapore was forced to scrap its showcase sporting event for two years in succession in 2020 and 2021.
Three years on therefore from Formula 1's last visit in 2019 to the Southeast Asian city-state, when Sebastian Vettel driving for Ferrari won his last Grand Prix, several changes - both circuit-specific and related to F1 - have occurred.
Three sections of Singapore's Marina Bay track have been resurfaced by F1 partner and specialist firm Dromo, which, coupled with the introduction of ground effect cars and 18-inch wheels that rely on a new tyre structure, means that previous set-up data can no longer be relied upon.
Read also:
"With 18-inch tyres that have a completely different compound and structure compared to the ones used three years ago – as well as new asphalt this year – it's almost like a totally new race," insists Pirelli F1 boss Mario Isola.
F1's exclusive tyre supplier has selected the three softest compounds in its range – C5, C4 and C3 – for this weekend's night race, a choice dictated by Marina Bay's typical street circuit characteristics.
"Singapore is all about slow corners – all 23 of them – and maximising traction," adds Isola.
"We've got the three softest compounds for maximum speed and grip but looking after the rear tyres in order to ensure the drive needed will be key.
"With the tendency of the latest cars to understeer, it will be even more important to find the right set-up balance to ensure a strong front end without compromising acceleration at the rear."
Pirelli expects a high degree of track evolution over the weekend, in part because there are not many support races scheduled at Marina Bay, which help to lay down rubber.
While track temperatures remain constant during the evening on race day, high humidity levels represent a significant physical challenge for drivers over the course of the 61-lap race, but they can also impact tyre degradation.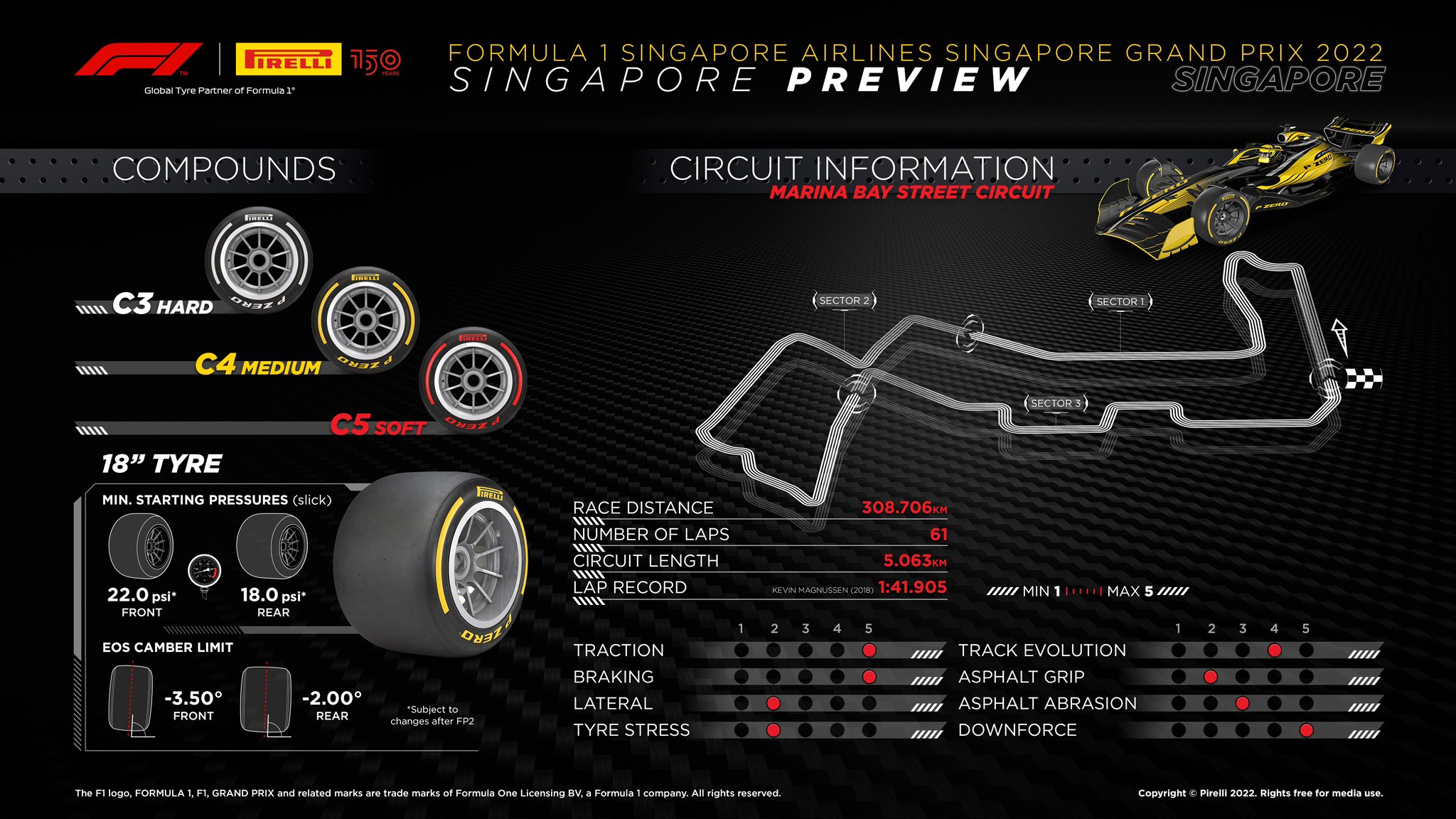 Keep up to date with all the F1 news via Facebook and Twitter