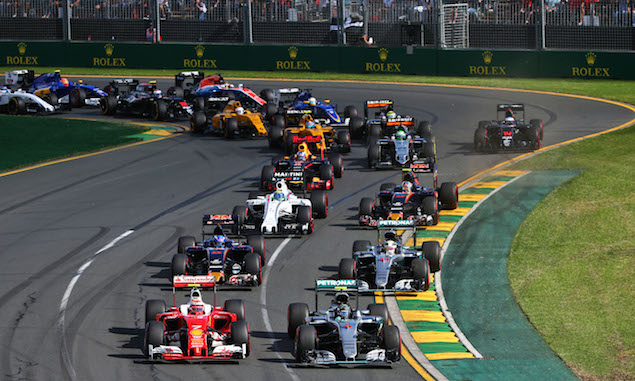 Lewis Hamilton says he has no problem with Nico Rosberg's positioning during the start to the Australian Grand Prix.
Rosberg was on the inside of Turn 1 behind Sebastian Vettel with team-mate Hamilton on the outside, and the two Mercedes had very slight contact as Hamilton was forced wide on to the kerb on the exit of the corner. The close battle saw the defending champion lose two further spots, though he recovered to finish second behind his team-mate in the race.
When it was put to him that he was unhappy with Rosberg at Turn 1, Hamilton replied: "Absolutely not, I never said that at all.
"I just said that I got ran wide at turn one. I couldn't really recollect what exactly went on, I assume he had someone up the inside and it was the case that Nico braked late whilst he was battling with Vettel.
"[Rosberg went] really deep, he locked up and I wasn't really anticipating coming over so far to the outside and I took evasive action to avoid him. It was nothing intentional from him and either of us."
Hamilton had referenced Rosberg's start during the post-race press conference, during which Rosberg apologised. Both Mercedes' were beaten off the line by the two Ferraris and Hamilton says it is an area his team must investigate.
"I just got wheel spin. No particular real issues, Ferrari's are very, very strong. My initial phase was just the same as Nico's but the second part where you release the clutch fully I just had extra wheel spin and didn't recover from it so it wasn't a major issue.
"It's always an ongoing change, even when my starts have been amazing. It's always moving, targets are always shifting so it is something for sure… We were just talking now and it's one of our priorities. The Ferraris got an incredibly good start, so we're going to try and figure out how we can do better."
Australian Grand Prix - Driver ratings
REPORT: Rosberg beats Hamilton after huge Alonso crash
AS IT HAPPENED: 2016 Australian Grand Prix 
Keep up to date with all the F1 news via Facebook and Twitter