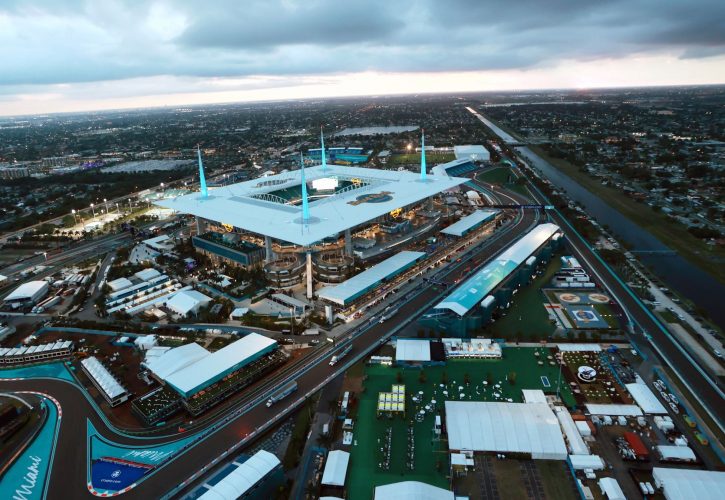 Formula 1's second Miami Grand Prix that took place last May was a massive boon to the local economy according to a recent report.
The event held at the Miami International Autodrome located around the Miami Dolphins' Hard Rock Stadium enjoyed its premiere in 2022.
But this year's attendance was in excess of 270,000 fans across the event's three days, which equated to an increase of visitors of roughly 40,000, a growth that has encouraged organizers to expand grandstand capacity at the venue for next year's race.
According to an independently commissioned study carried out by Applied Analysis, the local economy benefitted by $449 million from this year's race, an increase of 29% on 2022, which brings a total impact over the race's first two years to $798 million!
"Visitor spending in the Greater Miami region during race week reached over $195 million and total attendance was up nearly 15% in 2023, emphasizing Miami's place on the calendar as a destination race;" stated a press release published by the Miami Grand Prix organizers.
"The race also provided employment opportunities with salaries and wages reaching $150 million — an increase of 41% from the first year of the race.
"The construction of a new permanent Paddock Club building also led to a 60% increase in construction-related economic activity, with an impact of $230 million on the Greater Miami region in the months leading up to May's event."
F1's event in Miami also prominently highlighted its commitment to inclusiveness and diversity, woth organizers disclosing that more than 200 students hailing from the Miami Gardens vicinity actively engaged in STEM [Science, Technology, Engineering, and Mathematics] projects throughout the race week.
Furthermore, the event showcased a proactive stance towards supporting underrepresented entrepreneurs, with 14 minority-owned vendors included in the Miami International Autodrome's Food and Beverage program, thereby amplifying their visibility and reach.
The race's massive economic boost to Miami underscored once the benefits of hosting an F1 event in a destination city, which justifies the current overwhelming demand for a slot on the sport's calendar by promoters.
Keep up to date with all the F1 news via Facebook and Twitter