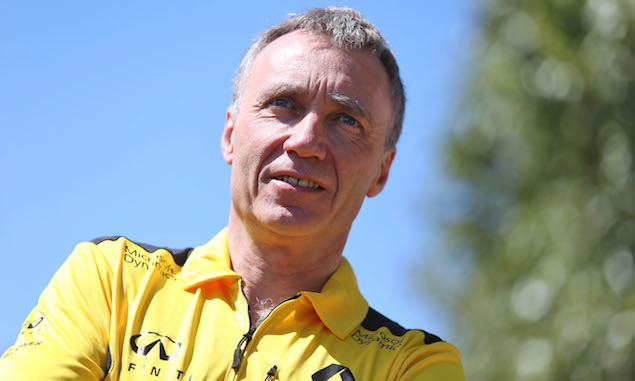 Renault technical director Bob Bell says his team is already behind on 2017 development because the bigger teams will have started work "six months ago".
Outline regulations for next season have been agreed by the F1 teams and are set to officially be approved at the end of April after recent uncertainty on how radical new aerodynamic regulations should be. Renault only took over the Lotus team in December and so faced a race against time to be ready for this season, but Bell acknowledges it is already on the back foot compared to rivals when it comes to next year.
"In aerodynamic terms and also, I suppose, mechanical terms it is quite a different car," Bell told ESPN. "Really, the team that will do the best job in 2017 is probably the one that started developing six months ago, honestly. There will be teams that have already been working on it for that period of time, if not longer.
"So it's a big challenge, but it's great for Formula One and a recasting of the regulations. I think that Formula One needed that and needed some change. Hopefully it will mix the order up a little bit."
However, Bell insists Renault will still look to develop this year's car rather than completely sacrificing this year in order to give its full focus to 2017 at this stage.
"The pace of development of the [2016] car will be slow in the early part of the season, but there is a development programme and we will bring upgrades to the car, but it probably won't be as strong a progression as we would do under normal circumstances.
"We have the added problem this season that 2017 is looming and it's a very different set of regulations, so at some point we will have to decide to make the significant switch from 2016 effort to 2017 effort, otherwise we will just get left behind then as well.
"It's going to be a difficult call and we will judge it over the first few races and decide where we are in the pecking order and how that meshes with our ambitions for the season and we will pace our development programme accordingly to balance 2016 and 2017 sensibly."
Chris Medland: Don't forget the main event
FEATURE: Silbermann says... Another tyre-some change
Technical analysis - Melbourne
Keep up to date with all the F1 news via Facebook and Twitter