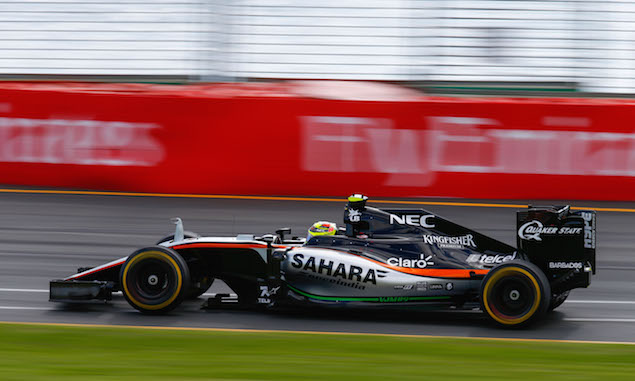 Force India will bring some aerodynamic upgrades to the Bahrain Grand Prix as it develops the VJM09.
The first race of the season saw Nico Hulkenberg finish seventh while team-mate Sergio Perez struggled to 13th place. With Force India looking to build on a strong finish to 2015 which saw it take fifth place in the constructors' championship, team principal Vijay Mallya says there will be upgrades this weekend in Bahrain.
"On paper Bahrain should be a strong track for us so I'm optimistic we can deliver a similar level of performance to that which we showed in Melbourne," Mallya said. "We will have some new aerodynamic developments, which will add some performance to the front of the car, so we will work hard to optimise those during the weekend."
And Mallya says he was encouraged by the pace shown by Force India in the first race in Australia, despite the team not scoring with both cars.
"After a race like Melbourne you always come away wondering what might have happened without the red flag, but I think we left Australia with our fair share of points. We had a mix of good and bad fortune, but I think that's true for quite a few teams. Ahead of the season I said the team's goal was to qualify and race in the top ten at every race, and we certainly achieved that in Melbourne.
"I think that the winter tests had already given us a good indication of what to expect. What is clear is that the grid is more competitive and closer together than it has ever been in the recent past. There are four or five teams who are all performing at a similar level, which made for a tight squabble in qualifying and the race. That can only be good for the fans; it's what the sport needs and I think Melbourne showed that it's the middle of the grid where most of the entertainment is being generated in terms of wheel-to-wheel racing."
RACE PREVIEW: Bahrain Grand Prix
Technical focus: 2016 F1 power units
FEATURE: A long wait - France's 20-year win drought in F1
Keep up to date with all the F1 news via Facebook and Twitter