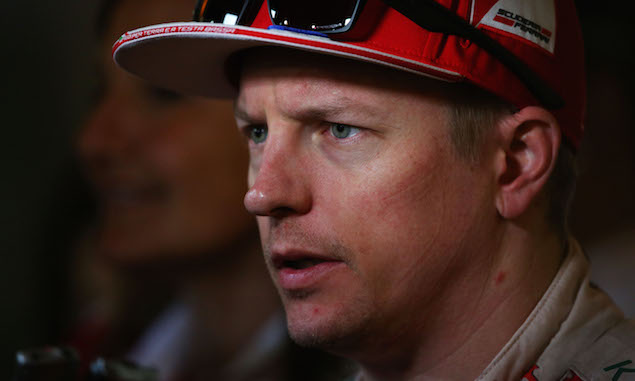 Kimi Raikkonen says only the driving attracts him to Formula 1, saying there is a "crazy" amount of "politics and bullshit".
Drivers have been more vocal regarding the state of F1 in recent weeks, with an open letter from the Grand Prix Drivers Association (GPDA) calling for a change to the "obsolete" governance structure in the sport. The failings of that structure have been highlighted by the recent debacle regarding the qualifying format and doubts being voiced over the 2017 regulations.
Raikkonen admits the situation has been similar for a number of years, and when asked about the best part of F1 he replied: "It's the driving, it's never been a secret.
"For sure in other racing the other stuff is more nice, because there is so much politics and bullshit in F1 that it is crazy sometimes. People from the outside must look at us and think 'what stupid people, what are they doing?'.
"I don't think it is good for anybody, but unfortunately it is how F1 is and it's been like that for years. Now there are bigger stories about it, but if you take ten years ago there was still politics and it's just the evolution of it, but if you want to do racing on circuits then for sure F1 is still the top level and the fastest cars.
"Obviously things can be improved, but if you want to look at racing on circuits, then F1 is still that way. I enjoy a lot when I did rallies and also some NASCAR stuff, but they are all so different how they are run and how the atmosphere is. Those things are different but there are good and bad things in that, nothing is perfect."
Despite the negative aspects of the sport, Raikkonen says it remains clear to him that F1 is the top level of circuit racing available to a driver.
"If you take the top rally guys it is absolutely amazing what they do, if you take the top NASCAR guys it's not like we can jump in and suddenly beat them. They own the things that they do, but if they came here they would be in trouble also. It depends what you are used to and what you do, but if you just want to look at the highest level of racing at race circuits, for sure it is F1."
DRIVER RATINGS: Bahrain Grand Prix
RACE REPORT: Rosberg beats Raikkonen to win in Bahrain
Keep up to date with all the F1 news via Facebook and Twitter