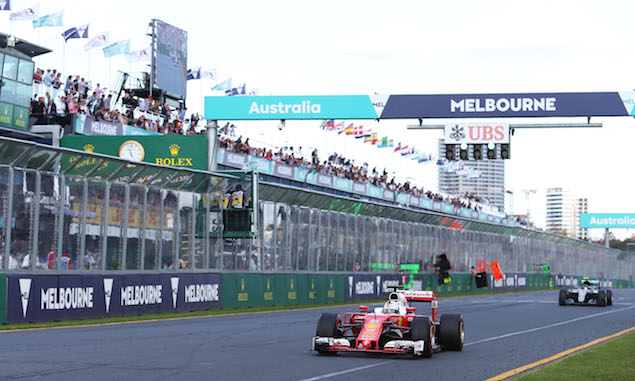 Ferrari has escaped punishment from the FIA over a pit board message during the Australian Grand Prix.
Amid a radio clampdown on what drivers can be told, Sebastian Vettel's pit board in Melbourne carried the message '-3.2-LFS6-P1' following the red flag period for Fernando Alonso's accident. The message refers to a setting on Vettel's steering wheel, with drivers no longer allowed to be given instructions to change settings aside from critical messages.
The FIA investigated the message having been alerted by one of Ferrari's main rivals in Bahrain. However, no further action was taken, with the FIA saying it received an "entirely satisfactory" explanation, with the message connected with the way in which the Standard Electronic Control Unit [SECU] software handled the red flag stoppage, leading to many teams having problems with fuel calculations.
It is understood the Ferrari message was one of many being investigated by the FIA, with race director Charlie Whiting having warned teams against trying to deliver coded messages via pit board ahead of the start of the season.
"They are allowed to give the same messages they give on the radio and no more," Whiting said in Melbourne. "There has been some suggestion that by putting the lap count, for example, in red it would mean one thing, if it's yellow another and white another. But we do have a camera looking at all the pit boards so if we see anything unusual we might have to ask why.
"I think the teams will do their very best to try to get as much information to the drivers as they can, but I just hope they continue to do it in a legal way."