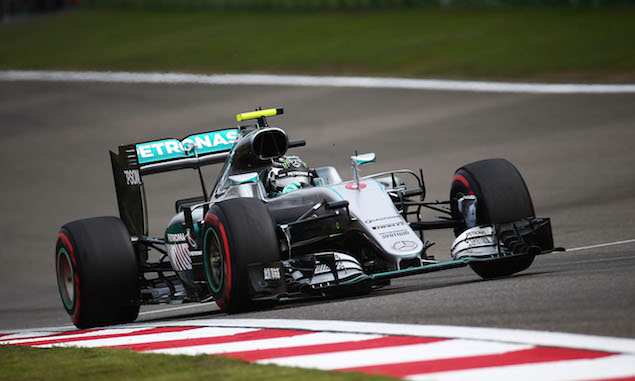 Nico Rosberg took pole position for the Chinese Grand Prix ahead of Daniel Ricciardo as Lewis Hamilton dropped out in Q1.
With Kimi Raikkonen on provisional pole, Rosberg delivered on his final run to set the fastest time by half a second. Ricciardo then produced an excellent lap in the Red Bull to qualify on the front row ahead of Raikkonen and Sebastian Vettel.
Both Ferrari drivers made errors on their final laps, running wide at the penultimate corner, but the margin of half a second between Raikkonen and Rosberg looked too big to close regardless. Rosberg even managed to reach Q3 using the soft compound tyre in Q2, meaning he will start the race on the softs while the rest of the top ten are on the supersofts.
Hamilton, on the other hand, suffered an ERS problem in Q1 and was unable to set a time. The problem means Hamilton will either start from the back of the grid or the pit lane if Mercedes chooses to do so.
Valtteri Bottas produced a good lap to take fifth place ahead of Daniil Kvyat, with Sergio Perez, Carlos Sainz, Max Verstappen and Nico Hulkenberg rounding out the top ten. However, the second Force India is likely to face a penalty after an incident earlier in the session.
Q2 led to frustration for a number of drivers as the session ended early under a red flag due to Hulkenberg losing his left front wheel on his out lap ahead of his final run. Hulkenberg was already in 10th place at the time and the problems stopped any drivers from improving.
Ahead of the stoppage, Bottas had just crossed the line to complete a lap and make it through to Q3, knocking out team-mate Felipe Massa. The two McLarens, Romain Grosjean and the Sauber drivers were also eliminated, with Fernando Alonso displaying his frustration over team radio.
The first part of qualifying was delayed after Pascal Wehrlein crashed on the pit straight due to the conditions. Heavy rain early in the morning had soaked the track and seen FP3 take place in the wet, but no further rain ensured Q1 started on a largely dry track. However, water continued dripping from the roof of the pit and main grandstand complex, leaving two wet patches.
Wehrlein was starting a flying lap and opened DRS along the pit straight, but a bump in the wet section unsettled his car and saw him lose control, hitting the barrier on the outside of the track. The session was delayed for 22 minutes while the Manor was recovered and workers attempted to dry the track.
When Q1 resumed, Hamilton's problem saw him return to the pits to drop out without setting a time, while he and Wehrlein were joined by Kevin Magnussen, Esteban Gutierrez, Jolyon Palmer and Rio Haryanto.
| Pos | Driver | Team | Q1 | Q2 | Q3 |
| --- | --- | --- | --- | --- | --- |
| 01 | Nico Rosberg | Mercedes | 1:37.669 | 1:36.240 | 1:35.402 |
| 02 | Daniel Ricciardo | Red Bull | 1:37.672 | 1:36.815 | 1:35.917 |
| 03 | Kimi Raikkonen | Ferrari | 1:37.347 | 1:36.118 | 1:35.972 |
| 04 | Sebastian Vettel | Ferrari | 1:37.001 | 1:36.183 | 1:36.246 |
| 05 | Valtteri Bottas | Williams | 1:37.537 | 1:36.831 | 1:36.296 |
| 06 | Daniil Kvyat | Red Bull | 1:37.719 | 1:36.948 | 1:36.399 |
| 07 | Sergio Perez | Force India | 1:38.096 | 1:37.149 | 1:36.865 |
| 08 | Carlos Sainz | Toro Rosso | 1:37.656 | 1:37.204 | 1:36.881 |
| 09 | Max Verstappen | Toro Rosso | 1:38.181 | 1:37.265 | 1:37.194 |
| 10 | Nico Hulkenberg | Force India | 1:38.165 | 1:37.333 | |
| 11 | Felipe Massa | Williams | 1:38.016 | 1:37.347 | |
| 12 | Fernando Alonso | McLaren | 1:38.451 | 1:38.826 | |
| 13 | Jenson Button | McLaren | 1:37.593 | 1:39.093 | |
| 14 | Romain Grosjean | Haas | 1:38.425 | 1:39.830 | |
| 15 | Marcus Ericsson | Sauber | 1:38.321 | 1:40.742 | |
| 16 | Felipe Nasr | Sauber | 1:38.654 | 1:42.430 | |
| 17 | Kevin Magnussen | Renault | 1:38.673 | | |
| 18 | Esteban Gutierrez | Haas | 1:38.770 | | |
| 19 | Jolyon Palmer | Renault | 1:39.528 | | |
| 20 | Rio Haryanto | Manor | 1:40.264 | | |
| 21 | Pascal Wehrlein | Manor | | | |
| 22 | Lewis Hamilton | Mercedes | | | |