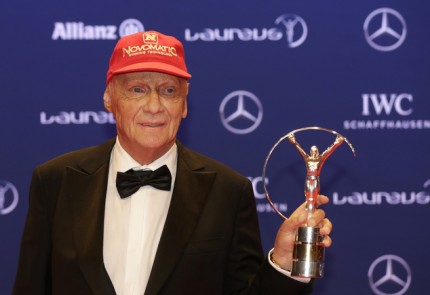 Triple F1 world champion Niki Lauda was the recipient last night in Berlin of the Lifetime Achievement award at the Laureus World Sports Awards.
The distinguished 67-year-old former driver and current non-executive Chairman of the Mercedes F1 team was honored for his contribution to Grand Prix racing, having won the title in 1975, 1977 and 1984.
Before an audience of sports and motor sport personalities which included current championship leader Nico Rosberg, team mate Lewis Hamilton, Mercedes F1 boss Toto Wolff, former triple world champion Mika Hakkinen and David Coulthard, Lauda took to the stage to collect the prestigious award.
"Thank you very much for this award, I know it's very important," Lauda said.
"But I want to say one thing, I've seen  a lot of people here winning and losing. So I'd like to dedicate this award to the losers.
"Because I can tell from my own experience, winning is one thing, but out of losing I always learned more for the future. So one grows stronger in losing.
"One thing that is really worrying me is the world is not turning in the right direction," Lauda added.
"But sport should be the best ambassador for the future generation to get us closer together again. This is really important for me."
The World Sportsman of the Year award went to tennis start Novak Djokovic who edged out , among others, 2015 F1 world champion Lewis Hamilton.
REPORT: Rosberg cruises home ahead of chaos in China
Chinese Grand Prix lap-by-lap as it happened
Eric Silbermann has breakfast with photographer Crispin Thruston
Keep up to date with all the F1 news via Facebook and Twitter