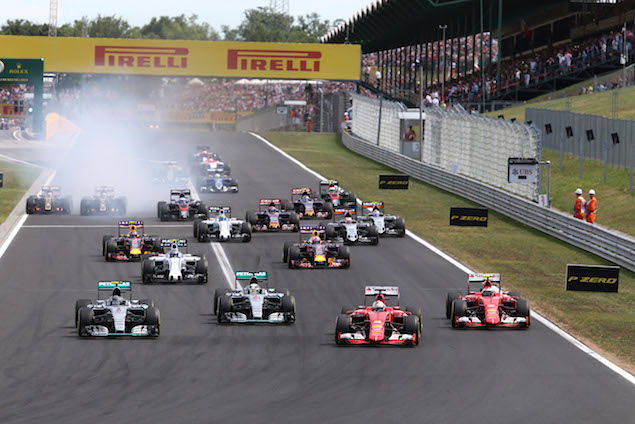 Bernie Ecclestone has confirmed that Budapest's Hungaroring will continue to welcome the Hungarian Grand Prix until at least the 2026 Formula One season.
The Magyar track first hosted grand prix racing in 1986 - the first race taking place behind the Iron Curtain at that time - and has been a permanent fixture on the F1 calendar ever since.
This year's 31st edition of the Hungarian GP will make it the ninth-longest serving venue in F1 history, per GPUpdate.net. Autosport adds that only Monza and Monaco have hosted an F1 race for a longer uninterrupted period of time.
The Hungaroring's previous contract already ran through 2021 but recent renovations works, including a comprehensive resurfacing of the tarmac, have earned the venue another five-year extension.
"Yep, we've a new deal," the 85-year-old F1 supremo told Autosport.
"They're good supporters, they do a good job, good for the country, good for us, and I'm very, very happy we're always in Hungary, and we're staying there."
Commenting on the new agreement, Hungary's national development minister Miklos Sesztak added: "Without giving out secrets regarding the details of our contract, I can tell you we'll be able to organise and run our F1 race for another five-year period under very favourable terms.
"However, despite the fact that after the grand prix everybody seems to be satisfied, saying they've had a great time here, we know further improvements are needed.
"The resurfacing work that has just finished was the first step in this direction.
"I can reveal the 2017 [governmental] budget submits substantial resources earmarked for the development of the circuit.
"This is because every year the race is one of the most important sporting events for our country, so the government of Hungary is committed to a good quality track such as the Hungaroring."
The Hungaroring's extended deal comes at a time when the future of the Italian Grand Prix at Monza remains in the balance.
Williams-Honda's Nelson Piquet won the inaugural 1986 Hungarian Grand Prix ahead of Lotus' Ayrton Senna, while Michael Schumacher and Lewis Hamilton are the most successful drivers in Budapest with four wins apiece.
Scene at the Chinese Grand Prix
Chinese Grand Prix - Quotes of the week
Keep up to date with all the F1 news via Facebook and Twitter