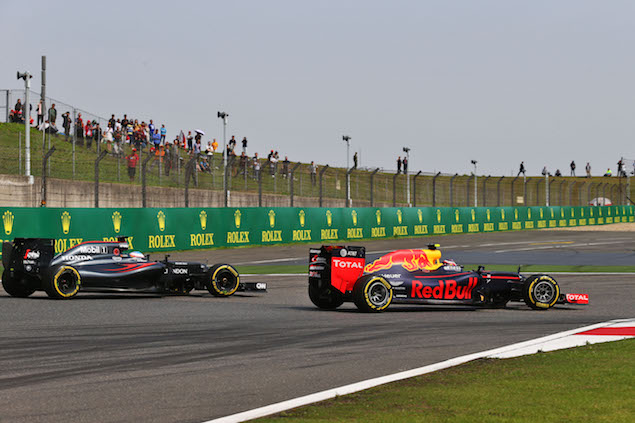 Fernando Alonso says only the four works teams enrolled in F1 - Mercedes, Ferrari, Renault, and McLaren-Honda, have a genuine shot at winning the world title under the current regulations.
Introduced two years ago, the 1.6-litre V6 turbocharged power units have put further emphasis on engine performance with factory outfits immediately emerging at the fore.
Over that span, Red Bull has been the only non-constructor team to win races, as Daniel Ricciardo claimed three victories in 2014, while Williams secured the sole non-works pole position in Austria that same year.
"I think the trend in Formula One now is that Mercedes, Ferrari, Renault and Honda can win the championship because the other private teams won't," Alonso told Spanish newspaper AS in a wide-ranging interview.
"With an engine of that calibre the mother factory can win the title on its own, so for the Mercedes and Ferrari drivers it's a great opportunity and I'm sure one of them will win the title.
"If Renault improve sufficiently and McLaren-Honda do as well they'll have the chance to win, but other than that... the private teams are out of the running."
Since returning to Woking ahead of 2015, Alonso has repeatedly claimed that McLaren-Honda's project was the only one capable of toppling Mercedes, which has been ruling the F1 roost for the past two years.
After a torrid campaign last year, the British team and Japanese manufacturer have made noticeable headway in the off-season, though it remains quite off the pace after the first three races this year.
"We believe in our own direction… I think the improvements we have made in the last year and a half are pretty surprising and they are giving us a lot of speed, but results are difficult to see coming given that F1 is so competitive at the moment," the double world champion added.
"That's the case even if we manage to improve the engine's performance by 60 percent when everybody else has done it by 40 percent."
Scene at the Chinese Grand Prix
Chinese Grand Prix - Quotes of the week
Keep up to date with all the F1 news via Facebook and Twitter