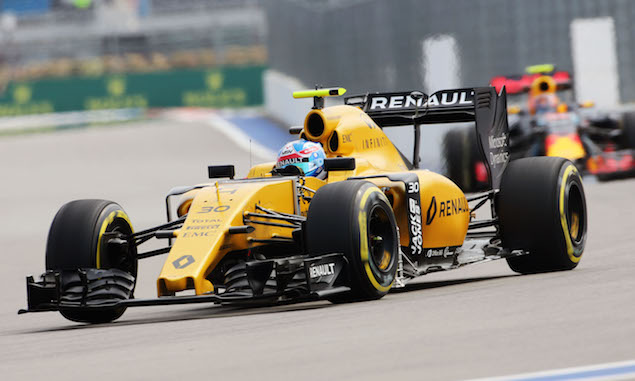 Jolyon Palmer insists there is no real pressure yet from Renault despite the team struggling since the first race of the season.
The rookie enjoyed an impressive debut at the Australian Grand Prix - finishing just outside the points - but failed to start in Bahrain and then was last of the runners in China. The result in Shanghai led to a debrief which by his own admission "wasn't pretty" but despite team-mate Kevin Magnussen also being yet to score Palmer feels Renault remains realistic.
"There's a little bit of pressure on the team to try and deliver because obviously China was a difficult result but for me I think for me the bosses have been quite understanding really of the position we are in," Palmer said.
"It was never going to be easy and obviously I'm a rookie as well, Kevin's had a year out so I think three races in there is not a lot of pressure at the moment. It's just about trying to do the best job we can do with the car we've got and I'm sure as the season goes on and the car gets more competitive then maybe more results will be expected."
While unhappy with the way recent race weekends have gone, Palmer says he takes confidence from his performance in Australia.
"For me it was great to have a good weekend in Melbourne because I know that the performance was there. I think if Melbourne had been difficult as well then things wouldn't be looking so good now, at least I can look back and see.
"Obviously coming in as a rookie you don't really know what to expect from Formula One but Melbourne showed what was possible I think and now it's just about trying to get back at least to that level for the moment and then trying to improve from there.
"It's not easy to have a couple of tough weekends but the season is so long that I think when you get to Singapore, Malaysia time I think people won't really mind if we are doing a good job there I don't think they will care that China was tough."
REPORT: Rosberg fastest as Mercedes dominates FP1
AS IT HAPPENED: Russian Grand Prix - FP1
Romain Grosjean column: Haas brought back down to earth
Chris Medland's 2016 Russian Grand Prix preview
Keep up to date with all the F1 news via Facebook and Twitter