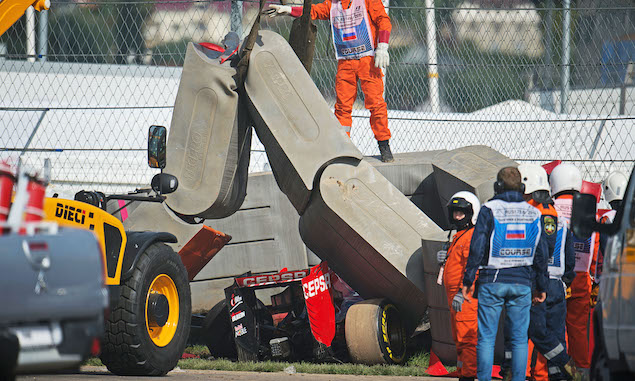 Carlos Sainz claims "Russia owes me one" after the Toro Rosso driver's difficulties at last year's race in Sochi.
Following disjointed running on Friday, FP3 saw Sainz have a huge accident at Turn 13, with his car becoming buried under the Tecpro barrier. Having been released from hospital, Sainz raced on Sunday and was running in the top six after an excellent recovery when his brakes eventually failed, forcing his retirement.
"I think Russia owes me one," Sainz said. "I honestly feel that it owes me one because last year everything that could happen to me did happen, when I think that I deserved a good result on Sunday after the race the break happened in the corner that it shouldn't have happened so hopefully it will give me back something."
However, Sainz admits the circuit is not one which should suit Toro Rosso on paper.
"There's no fifth, sixth gear corners, that is our advantage. There's a lot of straights, a lot of braking. In those fourth gear corners maybe we are strong but we need to take off the down force to equalise the others so we shouldn't be quick.
"I don't know honestly it's a question mark, maybe after watching some data [after practice] I can explain to you why we might be strong but at the moment nothing says that it should be our best weekend, actually it should be a difficult one. I'm up for a challenge so let's see if we can make it work."
REPORT: Rosberg fastest as Mercedes dominates FP1
AS IT HAPPENED: Russian Grand Prix - FP1
Romain Grosjean column: Haas brought back down to earth
Chris Medland's 2016 Russian Grand Prix preview
Keep up to date with all the F1 news via Facebook and Twitter