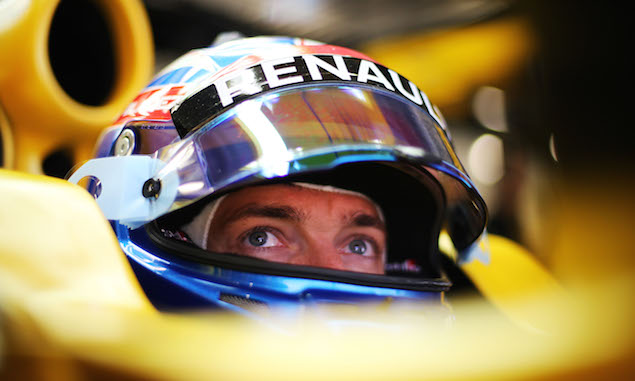 Jolyon Palmer is concerned Renault will not get on top of his handling issues during the Russian Grand Prix weekend.
The rookie struggled with the handling of his car in China, with excessive tyre degradation resulting in him finishing last of the 22 runners in Shanghai. After extensive analysis in to the last race weekend, Palmer was optimistic there would be no repeat in Russia but Friday practice suggested the problems remain.
"I think as a team not too bad, I think we're more competitive," Palmer said. "Personally, tough day, still not very happy with the car. Similar characteristics to China, I think better on the supersoft than the soft but still not happy.
"Honestly I'm not very confident of fixing it. I think we can improve the set-up, we can try and get around it. Maybe we can find something, we still haven't had the debrief from FP2 yet but it's the same situation as I had in China and I carried it the whole weekend so it doesn't fill me with confidence when it's happened here again on Friday. So personally I feel like I'm driving OK but I'm struggling with the inconsistent balance.
"I have a few concerns that we're not going to be able to get on top of it. We've obviously done two of the three practice sessions now, we've only got one hour left and the balance is better on a supersoft than the soft but it's still the inherent same problem."
And Palmer says his concern stems from the amount of work he and Renault put in between races before arriving in Sochi.
"There's quite a lot. We did a lot of analysis after China because China was obviously such a bad weekend and we found little things the whole weekend that were not right.
"I actually thought coming here that we would be OK, and we reverted quite a lot back to Melbourne set-up as well and it didn't seem to be any better. So we need more analysis and try to find out more into the chassis, into some key aero parts, to see what's going on."
REPORT: Hamilton quickest as Vettel hits trouble in FP2
AS IT HAPPENED: Russian Grand Prix - FP2
Silbermann says ... 'Russia OK' shock
Romain Grosjean column: Haas brought back down to earth
Keep up to date with all the F1 news via Facebook and Twitter