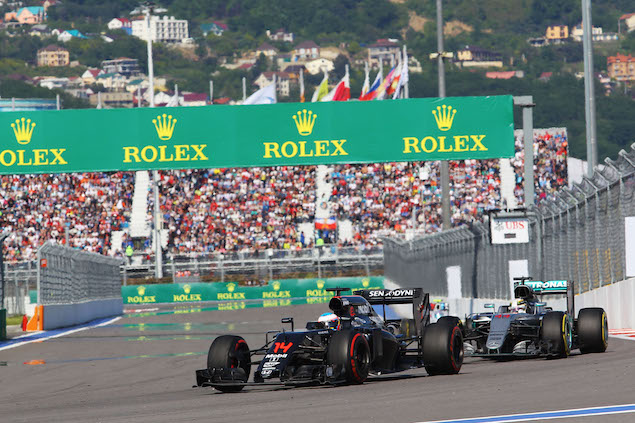 Fernando Alonso says he and McLaren-Honda team-mate Jenson Button need more power in qualifying to enjoy better grid positions and avoid getting caught up in the sort of first-corner mayhem seen at the Russian Grand Prix.
Although the Spaniard actually benefitted from the melee to move up from 14th to P7 on the opening lap, the Briton dropped several positions when he had to take evasive action with cars making contact and spinning between Turn 2 and 3.
Mclaren has yet to place any of its cars in Q3 since its reunion with Honda last year. Despite showing consistent top-10 pace in free practice this year, Alonso and Button have failed to convert it in qualifying when rivals turn up their engines.
"We need extra power for qualifying, as the others have, to be able to start further up the grid as that will avoid complications in the first few corners," Alonso said. "We're working on it, step-by-step, but we're happy with the progress. We're more and more competitive from race to race so the expectations for Barcelona and Monaco are to score points again."
As McLaren-Honda appears to be on the verge of a breakthrough, Alonso insists that the team leave no stone unturned in its quest for performance and hints that it should start spending some of its 14-token allocation.
"The [MP4-31] is coming along well, so we can hope for more points soon. But other teams are improving too, like Red Bull that fought for the podium in China, on tracks where engine power doesn't count much they can even fight with Ferrari, so they have to be our reference and aim at a similar pace.
"Hopefully we can start finishing in the top five. We'll have new parts but so will everyone else, so let's see if we start using some tokens to get some more power out of the engine."
DRIVER RATINGS: Russian Grand Prix
REPORT: Rosberg eases to win after Kvyat takes out Vettel
Breakfast with ... Martin Brundle
Keep up to date with all the F1 news via Facebook and Twitter