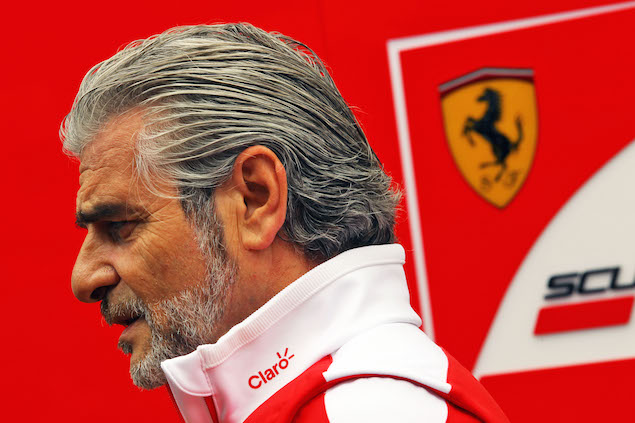 Maurizio Arrivabene insists Ferrari "is not giving up" on this year's Formula One title after experiencing another challenging race weekend at the Russian Grand Prix.
The Scuderia looked to turn a corner in Sochi, having spent three engine development tokens in order to get its season back on track following a troubled start amid reliability issues and a first-lap collision in China.
But Ferrari ended up suffering more setbacks, as Sebastian Vettel had an electronics issue in FP2, took a five-place grid penalty for using a new gearbox, and was out of the race after Red Bull's Daniil Kvyat hit him twice on the opening lap.
"Concerning the championship, we are not giving up," Arrivabene said. "The team doesn't want to give up and we want to put all our energy. From now on, we have 17 races. If you win 12 they can win the other five… I'm joking, but seriously, it's not gone and we are not going to give up.
"If I had to define the championship this year, we are not the kind of team who like to win comfortably! We are looking for a big challenge and what's happened is part of the racing story.
"Last time we had problem with the software with Sebastian, turbo with Kimi, but I don't think it's bad luck because nearby there is always a human mistake. I prefer to have this kind of problem now instead of having it in the course of the season or later on."
Perhaps more worrisome for Maranello was Kimi Raikkonen saying Ferrari was not fast enough to challenge Mercedes for victory in Russia. But the team principal remains confident the upgraded SF16-H package will deliver more performance as F1 returns to Europe in two weeks' time with the Spanish Grand Prix.
"First of all we don't have to make any more mistakes on our side," Arrivabene added. "Secondly I trust, I really trust, that from now on we can perform much better than we were performing much better than how we have up until now.
"Because the characteristics of the tracks that are coming, the tokens we spent are going to help us more from Spain and on. Of course, the other one [Mercedes] are not sleeping and waiting for us so we have to fight."
After the first four flyaway races, Ferrari already trails Mercedes by 81 points in the 2016 Constructors' standings, while Raikkonen is 55 points off championship leader Nico Rosberg with Vettel another 12 points adrift.
DRIVER RATINGS: Russian Grand Prix
REPORT: Rosberg eases to win after Kvyat takes out Vettel
Breakfast with ... Martin Brundle
Keep up to date with all the F1 news via Facebook and Twitter