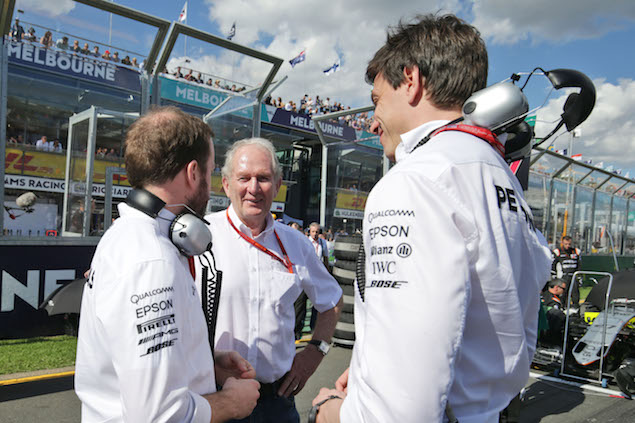 Red Bull motorsport advisor Helmut Marko admits he does not sympathise 'at all' with Mercedes after changes to next year's F1 regulations were voted in last week.
The reigning Constructors' world champions openly called for the 2017 tweaks to be scrapped, as they argued that having a stable rulebook helps bring teams closer together.
After describing Mercedes motorsport boss Toto Wolff as "paranoid", Marko, who sees Red Bull as the biggest beneficiary of the rule changes, says he does not feel sorry for the German manufacturer.
"Not at all," the 73-year-old replied when asked by the official Formula 1 website whether he was sympathising to Mercedes in the wake of the recent engine agreement for 2017. "Because it was all about not losing any advantage."
"We believe that the races have to be more exciting again - not so predictable…
"The midfield racing has been sizzling. But when it came to winning the race you knew that it would be a Mercedes driver. The Mercedes driver who comes out of the first corner in first is the race winner. Hopefully that will change."
Protracted talks about the 2017 rules revolution has led F1 boss Bernie Ecclestone to claim that the sport needs to be run by "a dictator". Marko wholeheartedly agrees with the 85-year-old supremo, but says identifying someone of Ecclestone's calibre is no easy feat.
"I don't think that we will find that all in one person as we now have it with Bernie. You need a shrewd businessman, you need a marketing whizz who has the knowledge of the sport and brilliant political connections. Probably we are looking for a 'Swiss Army knife' who has everything needed for survival! (laughs)
OPINION: Why Red Bull is right to promote Max Verstappen