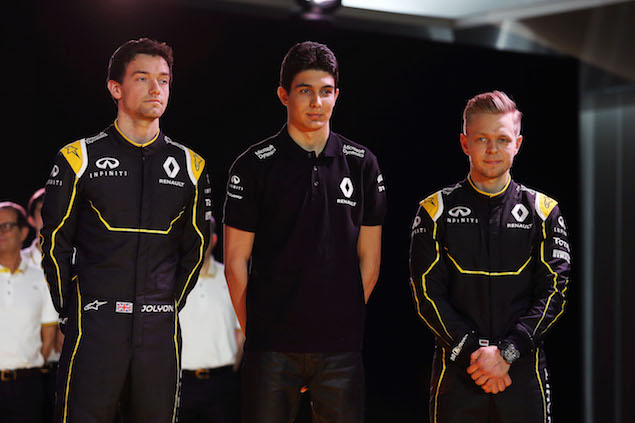 Frédéric Vasseur says Renault is keen to identify and develop future Formula One world champions for its work outfit.
Returning as a fully-fledged team this year, the French manufacturer has revived its young driver programme, called Renault Sport Academy (RSA), while also adding the likes of Nicholas Latifi and Sergey Sirotkin to its line-up.
Renault's current pairing of Kevin Magnussen and Jolyon Palmer had a combined F1 racing experience of only one year on the eve of the current season, but Vasseur, who also oversees the RSA, says the selection was made with an eye cast on the future.
"When the drivers were chosen the focus was already on 2018 and 2019," the Renault racing director told the official Formula 1 website. "That goes for the car side as well as for the driver side. We had to find the champion of 2019 - and not one from 2010.
"If you look at the past, all the success stories were always based on drivers: Renault and Fernando Alonso, Michael Schumacher and Ferrari, Red Bull Racing and Sebastian Vettel. So we will build up the team on drivers. This is an investment, just as is the wind tunnel or the engine."
Vasseur has extensive experience of bringing young talents to the fore, having led ART to multiple championships across the junior categories. Last year only, the French outfit claimed a dominant GP2/GP3 double, respectively with McLaren-Honda reserve Stoffel Vandoorne and Renault third driver Esteban Ocon.
Pressed to name the rising stars he thinks could win the F1 title in the near future, Vasseur, who also worked with Lewis Hamilton, Nico Rosberg, and Nico Hulkenberg in the past, replied: "I see a couple of youngsters who could do it.
"[Max] Verstappen is probably one of them; Esteban Ocon has beaten him in F3 (in 2014); Kevin did a very good job in [Formula Renault] 3.5, where he was in front of Vandoorne; Jolyon won the GP2 title in front of Vandoorne - and I keep Stoffel in very high regards."
It is understood that Vasseur tried to poach Vandoorne to replace the departing Pastor Maldonado over the winter but McLaren-Honda would not let the Belgian go.
Renault CEO Carlos Ghosn previously said he would be delighted to welcome back Alonso to the team where he won both his world championships in 2005-06.
OPINION: Why Red Bull is right to promote Max Verstappen