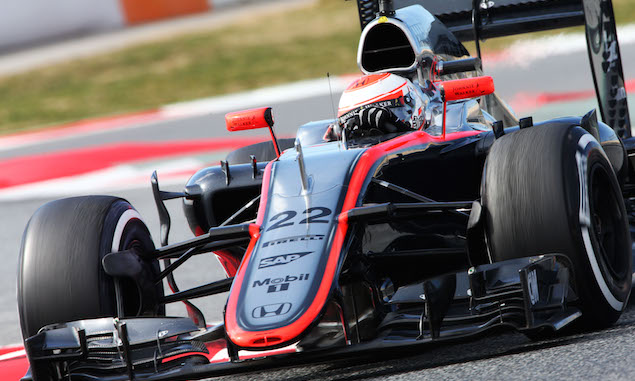 Jenson Button says the McLaren MP4-30 is "like a different category" of car compared to last year's MP4-29.
Having endured a disappointing 2013 season which failed to yield a podium, McLaren started last season with an encouraging double podium in Australia. However, the car was still uncompetitive and neither driver made it in to the top three again in 2014 as the team just managed to hold on to fifth in the constructors' championship.
While the new Honda-powered car has been hit by reliability issues throughout pre-season, Friday saw Button able to complete over 100 laps and he says the difference in chassis is now clear.
"It's a completely different philosophy in terms of aerodynamic and the style of aerodynamics," Button said. "And the airflow and how it works at yore and straight ahead, so it's always going to be completely different. It's basically like a different category in terms of the way that the car feels.
"This direction is something that will definitely work for this team in the future, but still it's obviously in very early stages. So this is what we need to fight at the front again. Going in the direction we were last year is never going to help us fight for a world championship whereas this direction and this philosophy will, and that's the exciting thing about it.
"But as I said, the whole package as a car and power unit still needs a lot of work to take us to the front, but we know that and that was always going to be the case. That's why it's very exciting, I think."
Click here for live coverage of day three of the final test
Click here for the gallery from day two of the final test