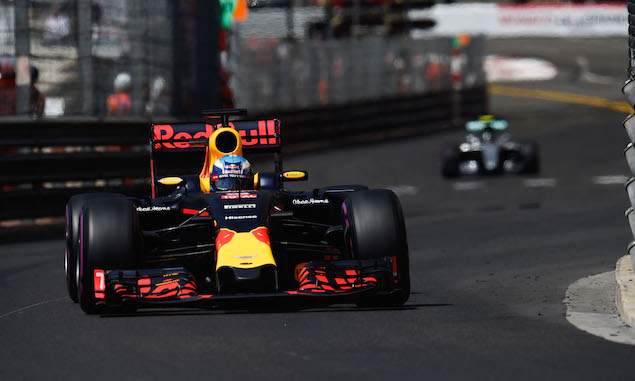 Daniel Ricciardo took pole position for the Monaco Grand Prix with a superb lap to end the Mercedes qualifying dominance this season.
The Australian secured his first ever pole with a lap of 1:13.622 to beat Nico Rosberg by 0.169s as Mercedes failed to take pole for the first time since Singapore last year. Rosberg needed a final run to beat team-mate Lewis Hamilton, who had been hampered by a power unit problem early in Q3.
Hamilton was unable to leave the pit lane, reporting a loss of power which left him stuck in the garage for the first half of the session. When he finally headed out Hamilton lapped slowly until the final minute and then was quickest through the first two sectors before fading in the final part of the lap to eventually take third place.
Sebastian Vettel will start alongside Hamilton but was left unhappy after setting the fastest first sector on his final attempt. Vettel then had a poor middle sector and aborted his lap, ending up over 0.9s adrift of Ricciardo's time.
While Ricciardo celebrates, Red Bull team-mate Max Verstappen is left to ponder what might have been after crashing out in Q1 and failing to set a representative time.
What is more impressive for Ricciardo is his best lap in Q2 came on the supersoft tyre, meaning he will start the race on a more durable compound than the ultrasoft which all of his rivals used to get through.
Nico Hulkenberg delivered an impressive performance to take fifth as he pipped Kimi Raikkonen by just 0.006s, with Carlos Sainz in seventh also a mere 0.023s slower than Hulkenberg. However, Raikkonen will start from 11th on the grid as a result of a gearbox change taken ahead of qualifying which handed him a five-place grid penalty.
Sergio Perez, Daniil Kvyat and Fernando Alonso rounded out the top ten, with Kvyat ending the session half a second off his Toro Rosso team-mate.
The Williams struggles at Monaco continued with both cars failing to make it through to the final part of qualifying as Valtteri Bottas dropped out in 11th and Felipe Massa 14th. Esteban Gutierrez produced a good lap to take 12th ahead of Jenson Button, with Romain Grosjean 15th and Kevin Magnussen the slowest driver to drop out in Q2.
The second part of the session also saw Mercedes show its pace, with a late lap from Rosberg edging out Hamilton by 0.013s, while Vettel and Ricciardo were around 0.3s adrift.
One of the eliminated cars in Q1 was known after just one minute, with Felipe Nasr's engine letting go on the exit of the tunnel. The red flag was required to clear oil from the circuit, with a five-minute delay following as the Sauber was removed.
The next driver knocked out also came before the end of the session and was a bigger shock as Spanish Grand Prix winner Verstappen crashed on his first flying lap. Verstappen clipped the barrier on the inside of the second part of the Swimming Pool section, breaking the front right suspension arm. That meant he went straight on at the second part and buried the car in the wall, leaving him 21st on the grid.
Marcus Ericsson and Jolyon Palmer dropped out as Magnussen snuck through by just 0.046 but was left under investigation for leaving the pit lane when the exit light had turned to red following Verstappen's crash. Rio Haryanto and Pascal Wehrlein were also eliminated, with Haryanto outqualifying his team-mate by 0.157s.
Technical feature: What will the 2017 F1 cars look like?
Daniil Kvyat exclusive: Time to think about life after Red Bull
Romain Grosjean column: 'I want Jules to always be with us'
Silbermann says ... Easyjet-set
Keep up to date with all the F1 news via Facebook and Twitter
| Pos | Driver | Team | Q1 | Q2 | Q3 |
| --- | --- | --- | --- | --- | --- |
| 01 | Daniel Ricciardo | Red Bull | 1:14.912 | 1:14.357 | 1:13.622 |
| 02 | Nico Rosberg | Mercedes | 1:14.873 | 1:14.043 | 1:13.913 |
| 03 | Lewis Hamilton | Mercedes | 1:14.826 | 1:14.056 | 1:13.942 |
| 04 | Sebastian Vettel | Ferrari | 1:14.610 | 1:14.318 | 1:14.552 |
| 05 | Nico Hulkenberg | Force India | 1:15.333 | 1:14.989 | 1:14.726 |
| 06 | Kimi Raikkonen | Ferrari | 1:15.499 | 1:14.789 | 1:14.732 |
| 07 | Carlos Sainz | Toro Rosso | 1:15.467 | 1:14.805 | 1:14.749 |
| 08 | Sergio Perez | Force India | 1:15.328 | 1:14.937 | 1:14.902 |
| 09 | Daniil Kvyat | Toro Rosso | 1:15.384 | 1:14.794 | 1:15.273 |
| 10 | Fernando Alonso | McLaren | 1:15.504 | 1:15.107 | 1:15.363 |
| 11 | Valtteri Bottas | Williams | 1:15.521 | 1:15.273 | |
| 12 | Esteban Gutierrez | Haas | 1:15.592 | 1:15.293 | |
| 13 | Jenson Button | McLaren | 1:15.554 | 1:15.352 | |
| 14 | Felipe Massa | Williams | 1:15.710 | 1:15.385 | |
| 15 | Romain Grosjean | Haas | 1:15.465 | 1:15.571 | |
| 16 | Kevin Magnussen | Renault | 1:16.253 | 1:16.058 | |
| 17 | Marcus Ericsson | Sauber | 1:16.299 | | |
| 18 | Jolyon Palmer | Renault | 1:16.586 | | |
| 19 | Rio Haryanto | Manor | 1:17.295 | | |
| 20 | Pascal Wehrlein | Manor | 1:17.452 | | |
| 21 | Max Verstappen | Red Bull | 1:22.467 | | |
| 22 | Felipe Nasr | Sauber | | | |