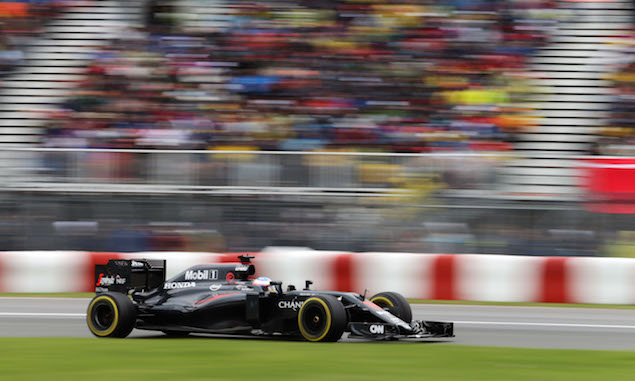 Honda says high fuel consumption proved costly for McLaren at the Canadian Grand Prix and led to a "disappointing" level of competitiveness.
Fernando Alonso finished 11th on a one-stop strategy but was nearly half a minute adrift of Sergio Perez in tenth place having failed to match his qualifying performance which saw the Spaniard reach Q3. Honda head of F1 project Yusuke Hasegawa told F1i high fuel consumption was the main reason McLaren was unable to remain competitive in the race.
"We knew we were around tenth, ninth or eleventh so it is not the biggest surprise that we can finish eleventh," Hasegawa said. "But because fuel consumption is very tough in this circuit Fernando needed to save fuel almost for the whole race. That's cost us very much, I think.
"It is obviously disappointing. We assumed that in a power circuit like this we would struggle, we knew that without any chaotic situation like the weather then we understood it would be difficult to get a point. The race proves that, so it was very disappointing."
Jenson Button retired early on with flames coming from the rear of his car, with early indictions suggesting it was due to a gearbox failure as Honda saw no power unit damage.
"We are not sure. From the data point of view the engine looks OK. The engine was still running and Jenson stopped the engine by himself. The oil pressure was still alive, so we don't know the cause. It was some mechanical issue I think but we don't know."
2016 Canadian Grand Prix - F1i's driver ratings
Hamilton beats Vettel to win in Canada
Breakfast with ... David Hobbs
Technical feature: Under the skin of the Haas VF-16
Keep up to date with all the F1 news via Facebook and Twitter