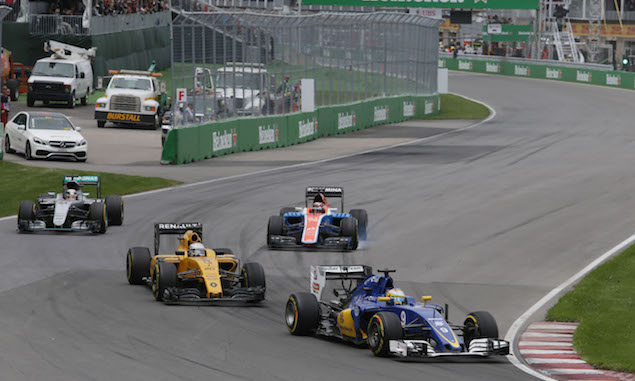 Sauber team principal Monisha Kaltenborn says she can see real improvement from Marcus Ericsson which is helping his consistency.
Ericsson missed out on big results at the start of 2015, with Felipe Nasr delivering when there were opportunities to score well. However, Ericsson finished the season strongly and apart from the Monaco Grand Prix this season has seen more consistent performances even if the team has yet to score a point.
With Kaltenborn eager to move on from the controversial clash between the two drivers in Monaco, she says Canada's performance highlights Ericsson's increasing ability to get the most out of his car.
"I don't think you should take last weekend as any kind of benchmark!" Kaltenborn said. "These things shouldn't happen but we are not the first team where this has happened and I think we have less to lose than other teams might have in these kind of situations so one should not take it out of proportion.
"What was the weekend before has all been sorted out, clarified, so minds were absolutely clear here and also this weekend there were no real dramas as such. Of course on Felipe's side the whole race got compromised because the incident he had with the Renault [being tipped into a spin by Kevin Magnussen] right at the beginning. As of now I'm not aware of anything which really had a major impact on performance as such, but of course it's not easy when you're thrown back like this right at the beginning.
"Marcus did a good, stable race which he has been doing for a while now, which is good. There were some good moves as well on his side. Everything was right, so we know what we have to improve and that's what we're working on."
Asked if she is pleased to see Ericsson performing more consistently than he did in 2015, Kaltenborn replied: "Absolutely.
"It's good and it shows how he's working on himself. That's also important for the motivation in the team. Again we are somewhere where are not used to being. You can't reduce us to 2014 and 2015 fine was also not where we actually expect to be, and definitely not this year. So, yes, this is now the third year which is not that great but it is not where we are usually when you look back over 23 years.
"So it's important that the driver also shows not only am I making the most of everything and not making mistakes but I am working on myself and doing what I can. One clearly sees big steps which he is taking here."